FULL SPECTRUM +
Sweet Dreams Bundle
Regular price

$276.00

Sale price

$124.20
---
Enjoy a restful night's sleep with our most potent sleep gummy yet. Carefully formulated with the perfect blend of CBD, CBN, THC, L-Theanine and just a touch of Melatonin.

Sweet Dreams:

 

CBD + THC promotes relaxation with a gentle, synergistic effect.
Enhanced Sleep Support:

 

CBN to promote deeper more soothing rest.
Regulate Sleep Cycle:

 

Introducing Melatonin! Just 1mg for the perfect night.
THC WARNING (PLEASE READ)

21+: Higher-strength THC gummies may cause intoxication, leading to altered perception, impaired coordination, and cognitive effects. Exercise caution and avoid operating machinery or driving while under the influence.
Individual Dosing: THC affects individuals differently.  Start with a low dosage and gradually increase if desired, always monitoring your tolerance and reactions.
Do not operate machinery or drive: Avoid engaging in any activities that require alertness and coordination.
SUGGESTED USE

Enjoy half to 1 full gummy 30 minutes before bedtime. Take it slow, start with a lower dose and work your way up until you feel the perfect level of relaxation.

Remember to talk to your doctor before indulging if you're pregnant, nursing, have a medical condition, or taking medication. Safety first, sleep second!
---

Recommended Use
Enjoy half to 1 full gummy 30 minutes before bedtime. Take it slow, start with a lower dose and work your way up until you feel the perfect level of relaxation.

Remember to talk to your doctor before indulging if you're pregnant, nursing, have a medical condition, or taking medication. Safety first, sleep second!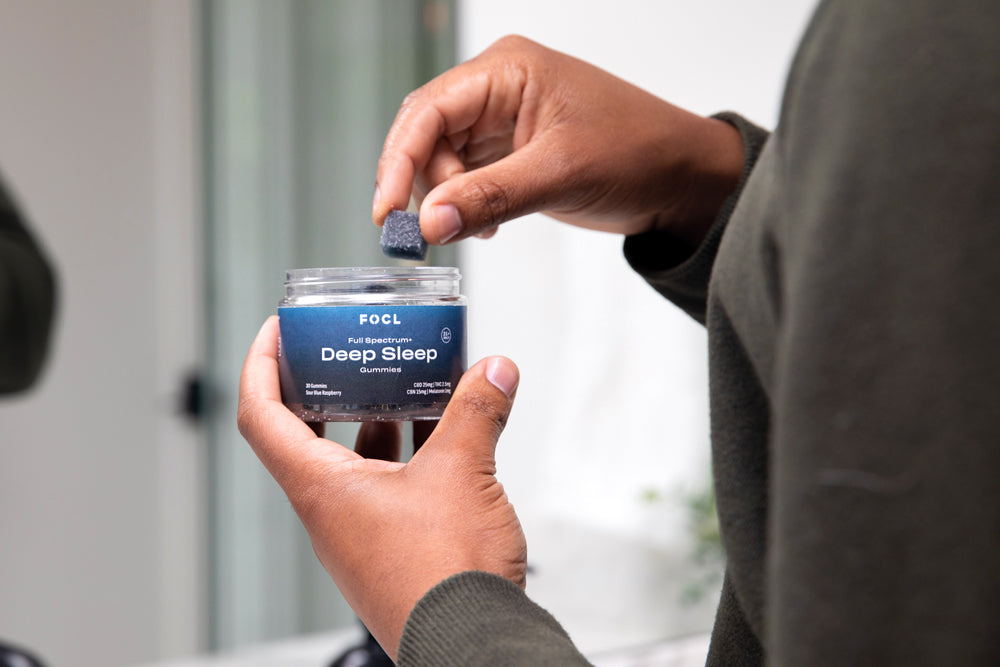 Why Full Spectrum+
Introducing FOCL Deep Sleep Gummies, a powerful blend of CBD, THC, CBN, and Melatonin designed to help you drift off into deep sleep and wake up refreshed.
Each gummy contains 25mg CBD, 2.5mg THC and 15mg CBN to enhance the synergistic effects of these sleep-friendly compounds. With 1mg of Melatonin to top off the perfect night's sleep.
The best version of you.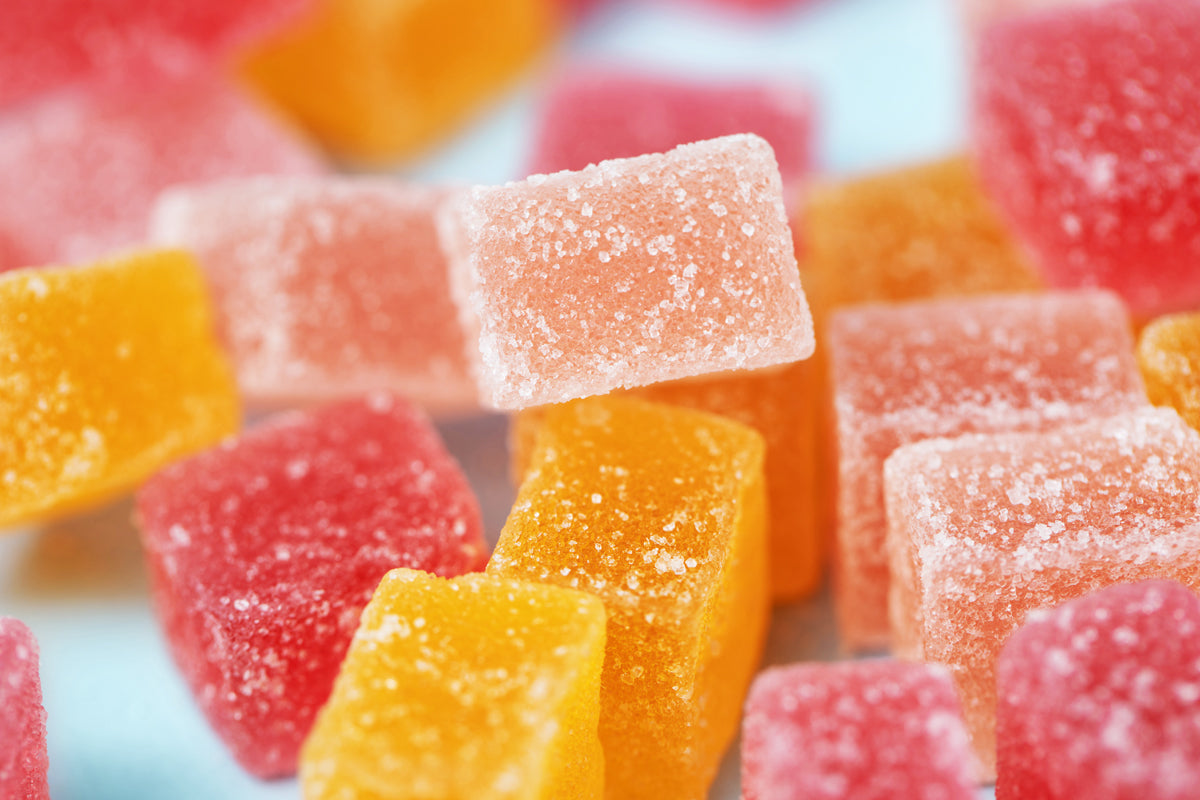 Quality Promise
At FOCL, we believe in full transparency and rigorous quality control. Our Deep Sleep Gummies are third-party lab tested to ensure they meet our strict standards for potency and purity. Additionally, our hemp is organically grown in the USA and is free from pesticides, herbicides, and heavy metals.
• Vegan
• Non-GMO
• Free of pesticides, heavy metals and microbials.
View Test Results
Can CBD improve sleep quality?

Absolutely! Many individuals have found that CBD can contribute to improved sleep quality. The relaxing properties of CBD, combined with the delicious taste of our gummies, can help you wind down and prepare for a night of restful slumber.
How does CBD affect sleep quality?

CBD interacts with your body's endocannabinoid system, which plays a role in maintaining bodily homeostasis, including sleep patterns. By supplementing your body's natural cannabinoids, our CBD gummies can help promote a balanced sleep cycle.
Is CBD safer than sleeping pills?

Many users find CBD to be a preferable alternative to sleeping pills due to its natural origin and gentler effect on the body. However, it's always important to consult with a healthcare professional before starting any new health regimen.
Should You Use CBD for Sleep?

If you're struggling with sleep issues, our CBD gummies could be a great addition to your night-time routine. As always, it's important to discuss this with your doctor to ensure CBD is a suitable choice for your personal circumstances.
Can CBD help with my insomnia?

There's increasing evidence that CBD may help alleviate symptoms of insomnia. Our CBD gummies, with their slow release and ease of dosage, can be a convenient and tasty option for those battling with sleep issues.
How much CBD do I need to take for sleep?

The perfect amount of CBD for sleep can vary greatly from person to person, based on factors like body weight, metabolism, and the severity of sleep issues. Starting with a smaller dose and gradually adjusting as necessary can be a good approach.
What to keep in mind when taking CBD for sleep?

Remember to be mindful of the potential interactions with other medications, possible side effects, and the source of your CBD. We source our CBD from high-quality, organic hemp and our gummies are third-party tested to ensure quality and safety.
When is the best time to take CBD for sleep?

For optimal sleep support, we recommend taking our CBD gummies 30 minutes before bedtime. This allows the CBD time to be absorbed and start working in your system.
How effective are CBD gummies for sleep?

Our customers have shared many positive experiences of improved sleep quality with our CBD gummies. However, as with all supplements, the effects can vary from person to person. That's why we recommend giving our gummies a try and seeing how they work for you!
Is CBD or melatonin better for sleep?

Whether CBD or melatonin is a better choice for sleep can depend on the individual and the nature of their sleep issues.The combination of both can be very effective which is why we include melatonin in our Deep Sleep Gummies. As always, it's best to consult with a healthcare professional to make an informed decision.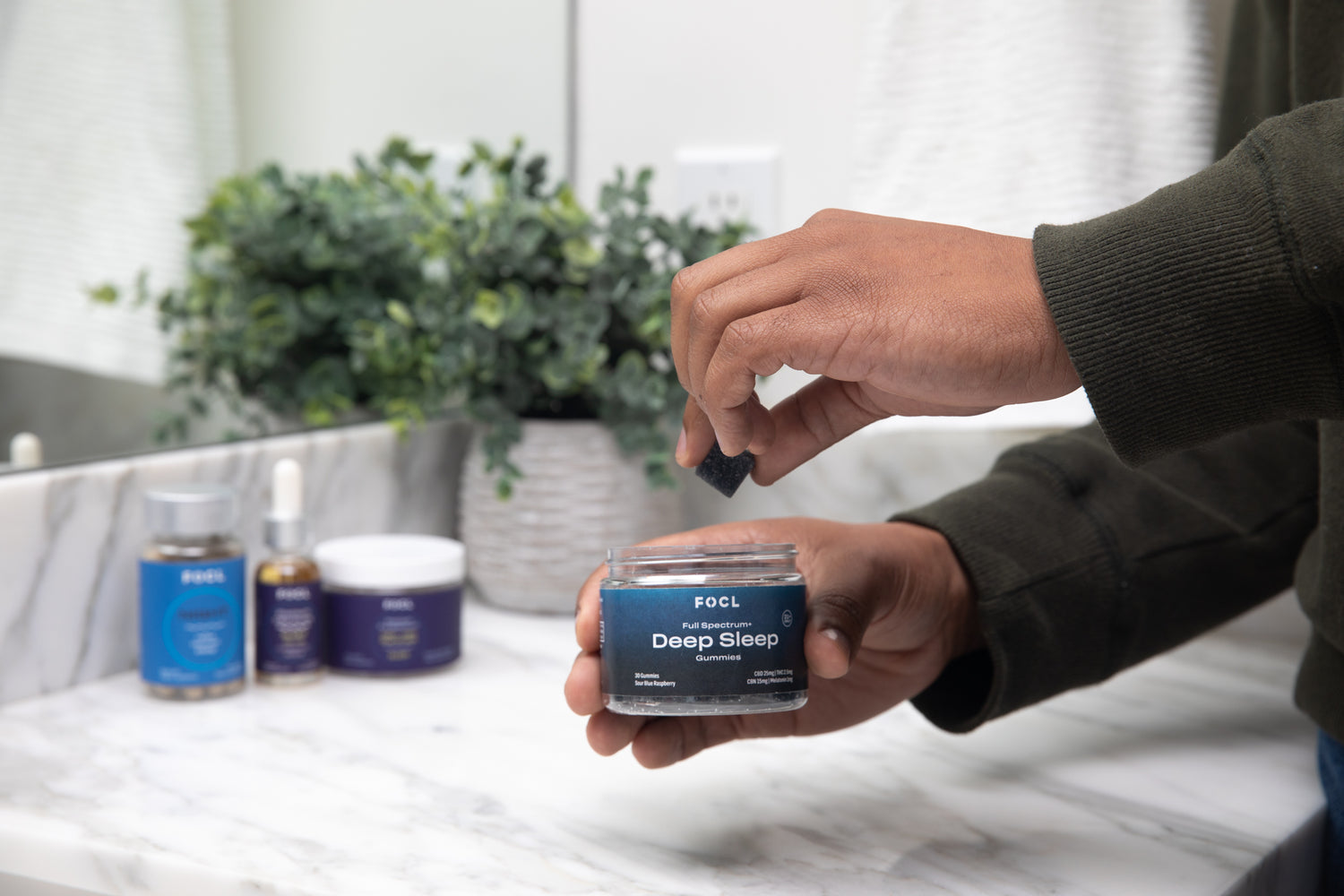 CBD For Sleep
Are you getting enough sleep these days? As we get older, our sleep requirements also change, and it becomes a need to make sure we're getting the right amount and quality of sleep. But hey, if you're struggling with specific sleep problems, don't fret because CBD can definitely lend a hand!
Let's explore the world of CBD and learn more about how it can help improve the quality of your sleep. Additionally, let's delve into some safety tips and alternative methods for treating sleep disorders like insomnia. So, hang in there, and let's start this quest!
With so many CBD products out there, it's a tricky job to find the best ones. But you're already in the right place! FOCL provides the highest quality CBD gummies, supplements, and topicals for all your needs. Make sure to check us out and reach out for any queries you have!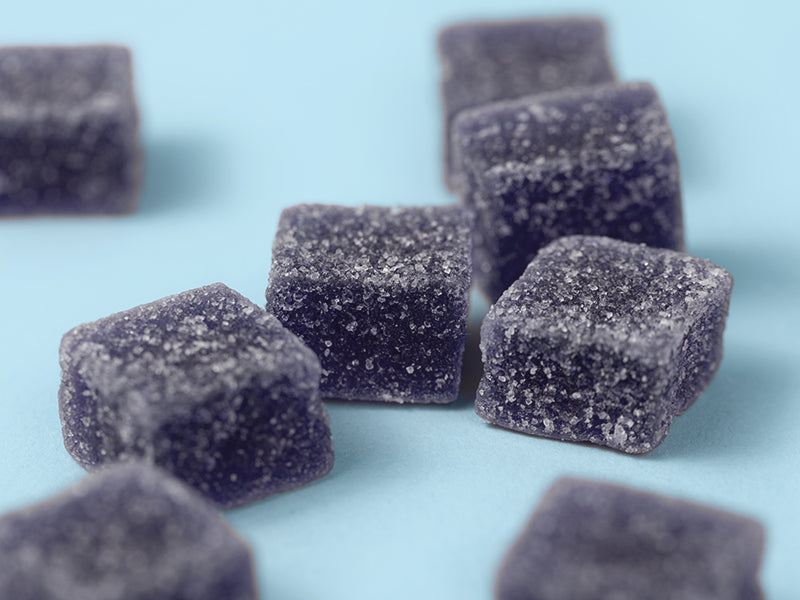 What Is CBD?
Cannabidiol (CBD) is one of the most studied compounds in the cannabis plant. Unlike its fellow cannabinoid, tetrahydrocannabinol (THC), CBD won't get you high as it doesn't have any psychoactive effects. It's extracted from cannabis and mixed with carrier oils like hemp seed or coconut oil. You can eat it, apply it topically, or take it as capsules, gummies, or tinctures.
CBD is famous for its therapeutic effects and can help with pain, anxiety, inflammation, and sleep. It interacts with our body's endocannabinoid system, which regulates various functions like mood, appetite, sleep, and immunity.2
Today, CBD is infused and added to a lot of different products and is used for both medicinal and recreational purposes.
If you are looking for premium CBD products, head on over to FOCL and get ready to embark on a fantastic CBD experience with us!
How Does It Work?
CBD works by interacting with the body's endocannabinoid system (ECS), which is like a network of receptors and messengers that control things like sleep, mood, appetite, and pain. When you take CBD, it attaches to the ECS receptors and encourages the body to produce more of its own natural cannabinoids.
This teamwork between CBD and the ECS can lead to some awesome benefits, like a better mood and improved sleep. CBD has the potential to lower stress and anxiety levels too, which is super helpful if you struggle with insomnia. By reducing stress and calming anxiety, CBD helps you relax and makes it easier to drift off into dreamland.
Why Should You Consider CBD For Sleep?
CBD has become increasingly popular in recent years as a natural remedy for a range of health issues, including sleep disorders. While research is still ongoing on the effects of CBD on sleep, there is already a growing body of anecdotal evidence that suggests it may be beneficial. Many people report feeling more relaxed and less anxious when taking CBD before bed, which could help them to fall asleep more easily.
If you are considering trying CBD for sleep, make sure to take it responsibly and follow the dosage guidelines provided by the manufacturer. You should always consult with your doctor before taking any new supplement especially if you're currently taking other medications.
Natural Approach
CBD is a natural, plant-derived compound that is becoming increasingly popular for its potential health benefits, especially when it comes to improving sleep. While research is still ongoing to determine the full effects of CBD, it is generally considered safe for use and has minimal side effects.
Non-Intoxicating 
Unlike THC, which can give you that "high" feeling, CBD is a non-intoxicating compound found in cannabis plants that won't mess with your mind and won't get you all loopy. So, if you're looking for some sweet relief from varying conditions like insomnia, CBD can be your go-to buddy. 
Anxiety And Stress Reduction 
CBD has shown promising results in reducing anxiety and stress. Studies have indicated its effectiveness in reducing anxiety levels and physiological symptoms in individuals with social anxiety disorder, as well as alleviating stress responses in animals.1 
Additionally, CBD has demonstrated potential in improving sleep quality for individuals with post-traumatic stress disorder (PTSD). While further research is needed, these findings suggest that CBD could be a beneficial option for those seeking relief from anxiety and stress-related symptoms.
Pain And Inflammation Relief 
It has been found that CBD can potentially reduce inflammation and pain by interacting with the body's endocannabinoid system, which also has control over your body's pain sensation. This is good news for those suffering from chronic pain and conditions such as arthritis and fibromyalgia. 
Research And Anecdotal Evidence
Research on the effects of CBD on sleep is still in its early stages, but several studies have already suggested that CBD may have a positive impact on sleep quality and insomnia symptoms. 
In a 2019 study, CBD was found to significantly decrease anxiety symptoms and improve overall sleep quality in individuals with anxiety. Furthermore, other research has indicated that CBD may help reduce sleep latency, benefiting those who struggle to fall or stay asleep.4
In addition to these scientific findings, anecdotal reports from CBD users also highlight its potential in promoting faster and longer sleep while reducing anxiety.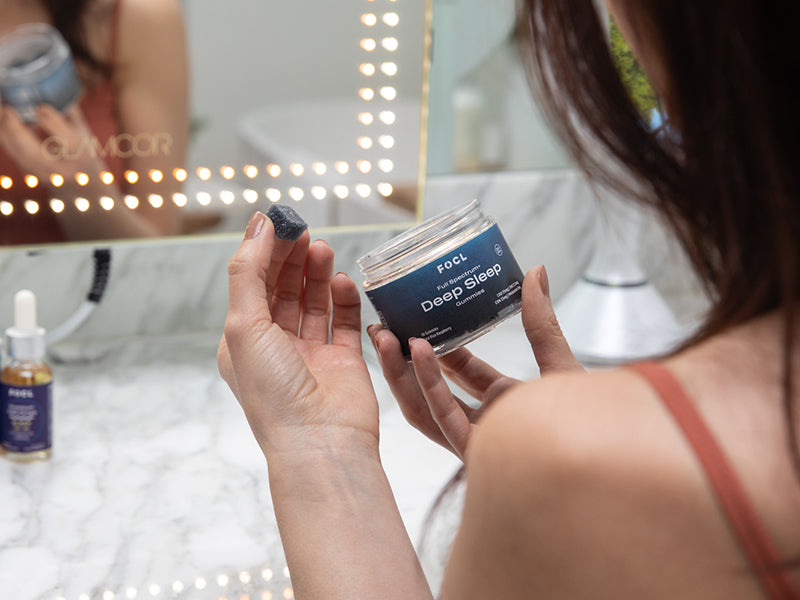 Full-Spectrum CBD Gummies For Sleep
Full-spectrum CBD is a cannabis extract that includes all the compounds that occur naturally in cannabis, like cannabinoids, terpenes, essential oils, vitamins, and flavonoids. In that case, Full-Spectrum CBD Gummies are a dream team that helps you relax, unwind, and doze off peacefully. Not only that, but CBD also helps with stress, anxiety, inflammation, and pain. These gummies surely provide a sweet way to sleep like a baby!
FOCL CBD + CBN Sleep Gummies
FOCL's game-changing Premium Full Spectrum CBD + CBN Sleep Gummies are designed to take your sleep to the next level! These gummies are all about delivering deeper, more restful slumber so that you can wake up feeling refreshed and ready to conquer the day!
And guess what? They taste absolutely amazing too! Crafted with pride right here in the USA, these CBD edibles are truly a dream come true. With their melt-in-your-mouth texture, FOCL soft-chew gummies make bedtime feel more like a treat than a chore.
At FOCL, we take quality seriously, which is why we prioritize third-party testing to ensure the highest safety standards. Rest assured, our gummies are vegan, non-GMO, and free of pesticides, heavy metals, and microbials. We're committed to keeping things clean, so you can indulge in a worry-free sleep experience with CBD.
Get the sleep you deserve and wake up feeling revitalized with our irresistible Premium Full Spectrum CBD + CBN Sleep Gummies. Try them today and experience the difference!
Deep Sleep CBD + THC Gummies
Say goodbye to restless nights! FOCL's Deep Sleep CBD + THC Gummies offer the best of both worlds, CBD and THC, without the need to smoke. Our most potent sleep gummy is carefully crafted with a blend of CBD, CBN, THC, and just a touch of Melatonin. 
Experience relaxation like never before with the gentle synergy of CBD + THC. These gummies are designed to promote deeper and more soothing rest with the help of CBN. Plus, we've added just the right amount of Melatonin, 1mg to be exact, to regulate your sleep cycle and ensure the perfect night of sleep. And the best part? It's non-habit forming!
Choose from a variety of delicious flavors and dosages to find the perfect match for your sleep needs. With Deep Sleep CBD + THC Gummies, you can finally say hello to restful nights and wake up feeling refreshed. Get ready for sweet dreams like never before!
Premium Full Spectrum CBD + CBN Sleep Gummies
Tossing and turning all night? Premium Full Spectrum CBD + CBN Sleep Gummies are here to rescue your sleep! These all-natural gummies are specially designed to support deeper and more restful slumber, so you can wake up feeling refreshed and ready to conquer the day. Made with care in the USA, you can trust their quality and effectiveness.
Forget counting sheep, these gummies are your ticket to sweet dreams! Each gummy packs a powerful punch with 25mg of premium CBD and 15mg of CBN, giving you more bang for your bite. And the best part? They taste absolutely fantastic! 
When it comes to clean and quality sleep, FOCL has got you covered. So why wait? Try our Premium Full Spectrum CBD + CBN Sleep Gummies and wake up motivated and ready to take on the world!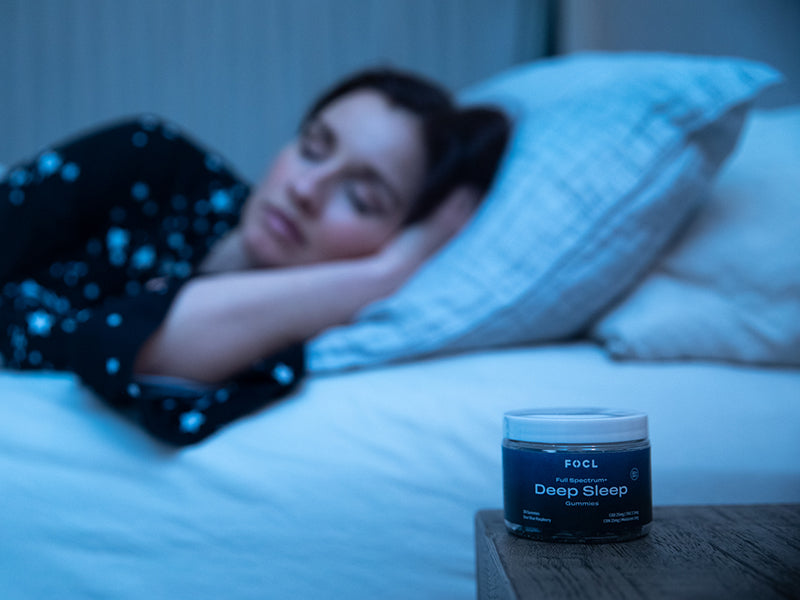 Experience Better Sleep With FOCL CBD Products!
Looking for a reputable company that delivers quality CBD products? Look no further than FOCL!
We are a trusted provider of high-quality CBD products, with a special focus on helping people achieve better sleep. We offer a wide range of products designed specifically for sleep, including:
What sets FOCL apart is our commitment to using premium, organically grown hemp. Rest easy knowing that our products are free of any artificial colors or flavors. At FOCL, we prioritize safety and effectiveness so you can rely on our products to be of the highest quality.
Whether you're seeking a natural way to enhance your sleep or simply want to enjoy the calming effects of CBD through tasty edibles, FOCL has the perfect gummies for you. Head over to focl.com and take your first step towards improving the quality of your sleep!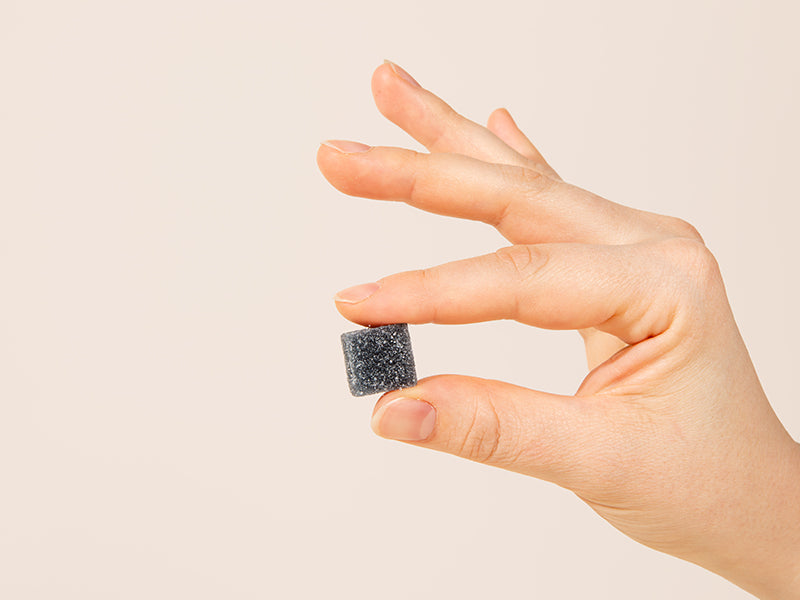 Final Thoughts
CBD has become a popular natural remedy for a variety of health issues, including sleep. But remember that CBD is not a replacement for other treatments, such as cognitive-behavioral therapy, but rather an additional option to consider. 
Before taking CBD for sleep, discuss it with your healthcare provider to ensure it is safe for you and also to determine the right dosage. Natural approaches, such as lifestyle and diet changes, can also help improve sleep quality, so be sure to explore those options as well. 
Lastly, make sure to choose CBD products from a reliable company that follows good manufacturing practices like FOCL. We're all about delivering the goods when it comes to high-quality CBD products. So why settle for anything less? Join the FOCL family and enjoy exclusive rewards!
Did you know CBD can also help you achieve your fitness goals? Check out our latest blogs for the full details!
How To Take CBD Safely For Sleep
When it comes to consuming CBD, there are various methods available, but the most popular one is taking it orally through tinctures, oils, or capsules.3 No matter which form you prefer, make sure to safely take it and keep the following points in mind:
Dosage Guidelines
Finding the right dosage is key for a safe and enjoyable CBD experience. Since each of us is unique, our bodies will respond differently to different dosages so it's all about finding that personalized sweet spot!
A general rule of thumb is to start with a low dose and gradually increase it until you find the amount that works best for you. For most people, this is usually between 10-25 mg of CBD per day. However, it is important to consult with your doctor before beginning any new supplement regimen.
Timing And Considerations
Timing is everything when it comes to CBD. Keep in mind that it may take some time for CBD to kick in, usually between 30 minutes to two hours. So, if you're aiming for that peaceful slumber, make sure to take it at least an hour before your bedtime.
Don't forget to check out the type of CBD product you're using. Each product has its own level of potency and absorption rate. Just be aware of the strength of what you're getting into. Stay in the know so you can get the most out of CBD. 
Alternative Natural Approaches To Aid With Insomnia 
From the food you eat to the way you live your everyday life, there are plenty of natural alternatives that can help with insomnia. Let's dive into some of the top picks:
Herbal Remedies: Herbs like chamomile, passionflower, and valerian root have been used for centuries to help people relax and get a good night's sleep.
Supplements: Melatonin is a popular supplement for people who have trouble sleeping. It is a hormone produced naturally in the body and is usually taken in the form of a pill or liquid.
Lifestyle Changes: Some of the adjustments you can make to your daily routine include avoiding caffeine in the afternoon and evening, cutting down on alcohol, and exercising regularly which can all help improve your overall sleep quality.
Relaxation Techniques: Meditation, deep breathing, and progressive muscle relaxation can help people relax and prepare for sleep.
Acupuncture: This technique has been used for centuries to help people with insomnia which involves inserting thin needles into specific points on the body to help relax the muscles and mind.
Yoga: Practicing yoga results in reduced sleep latency and deeper, more restful sleep.
CBD Interaction With Other Prescriptions 
Before you take any CBD product for sleep, let's try to understand how it may play with other medications if you're currently taking any.
CBD has the potential to interact with certain drugs, like benzodiazepines, antihistamines, and antidepressants. Benzodiazepines work their magic by boosting specific brain chemicals to tackle anxiety and insomnia. Antihistamines, on the other hand, are allergy-fighting warriors that block the action of histamine, a troublemaker in our allergic responses. And let's not forget antidepressants, those mood-boosting pals that ramp up neurotransmitter activities in the brain.
Now, here's the scoop: CBD can have similar effects and may interact with these medications. So, to keep things responsible and safe, consult with your doctor before adding CBD to the mix. Better safe than sorry, right?
Things To Consider When Buying CBD Sleep Products 
When shopping for CBD sleep products, there are a few things to consider. Here are some key factors to keep in mind that'll guide your buying decision:
Doctor Recommendations
Before trying out any CBD product, it's always best to talk to your doctor first. They can give you the inside scoop on the best dosage, timing, and potential interactions with any other medications you're taking. Plus, they'll be there to guide you through any possible side effects.
Here's a little tip: since CBD isn't regulated by the FDA, it's smart to do some research on the product you're eyeing. Look for ones that have undergone third-party testing to ensure top-notch quality and safety.
Flavor Preference 
Most CBD products come in edibles like gummies, brownies, and chocolate bars, so if you want to add some fun and personal touch to your CBD experience, choose the perfect flavor that matches your taste buds. CBD oils offer the option to select a fragrance that will truly satisfy you.
There are a variety of flavors available, ranging from mint to citrus to berry and more. Some people prefer flavored CBD products as it helps to mask the earthy taste of hemp extract. On the other hand, some individuals may prefer the unflavored version if they don't enjoy the taste of flavored CBD.
Be mindful of the ingredients used in CBD products. Many companies use artificial flavoring agents and additives that can potentially be harmful to your health. For your safety, choose products that utilize natural flavorings sourced from essential oils or extracts derived from real fruits and vegetables.
Extraction Method
When it comes to extracting CBD, there are two main methods: solvent-based and CO2 extraction. Let's break it down in a simple way.
Solvent-based extraction uses solvents like ethanol, butane, or hexane to get the cannabinoids from the plant. It's faster and cheaper, but it can leave some solvents behind in the final product.
On the other hand, CO2 extraction is like using pressurized carbon dioxide to extract CBD from the plant. It takes more time and money, but it's the safest and most effective method. It gives you a higher-quality product with fewer impurities and leftover solvents.
So, if you're looking to buy CBD, go for products that are made using CO2 extraction. It's the most efficient method that's generally considered safe and reliable.