FULL SPECTRUM +
Chill Out CBD + THC Gummies
Regular price

Sale price

$69.00
---
Relax and unwind with nature's best ingredients. Expertly crafted with the perfect blend of CBD, THC, and L-Theanine.
Kickback & Relax:

 

Let the day melt away with just one gummy.
Calm & Gentle:

 

Ease into the moment with just the right amount of CBD + THC.
L-Theanine:

 

Enhances mental clarity and focus.
THC WARNING (PLEASE READ)

21+: Higher-strength THC gummies may cause intoxication, leading to altered perception, impaired coordination, and cognitive effects. Exercise caution and avoid operating machinery or driving while under the influence.
Individual Dosing: THC affects individuals differently.  Start with a low dosage and gradually increase if desired, always monitoring your tolerance and reactions.
Do not operate machinery or drive: Avoid engaging in any activities that require alertness and coordination.
SUGGESTED USE

Enjoy half to 1 full gummy as needed to relax. Take it slow, start with a lower dose and work your way up until you feel the perfect amount of Chill Out vibes.

Remember to talk to your doctor before indulging if you're pregnant, nursing, have a medical condition, or taking medication. Safety first, relaxation second!
or 4 interest-free payments with
during Checkout
---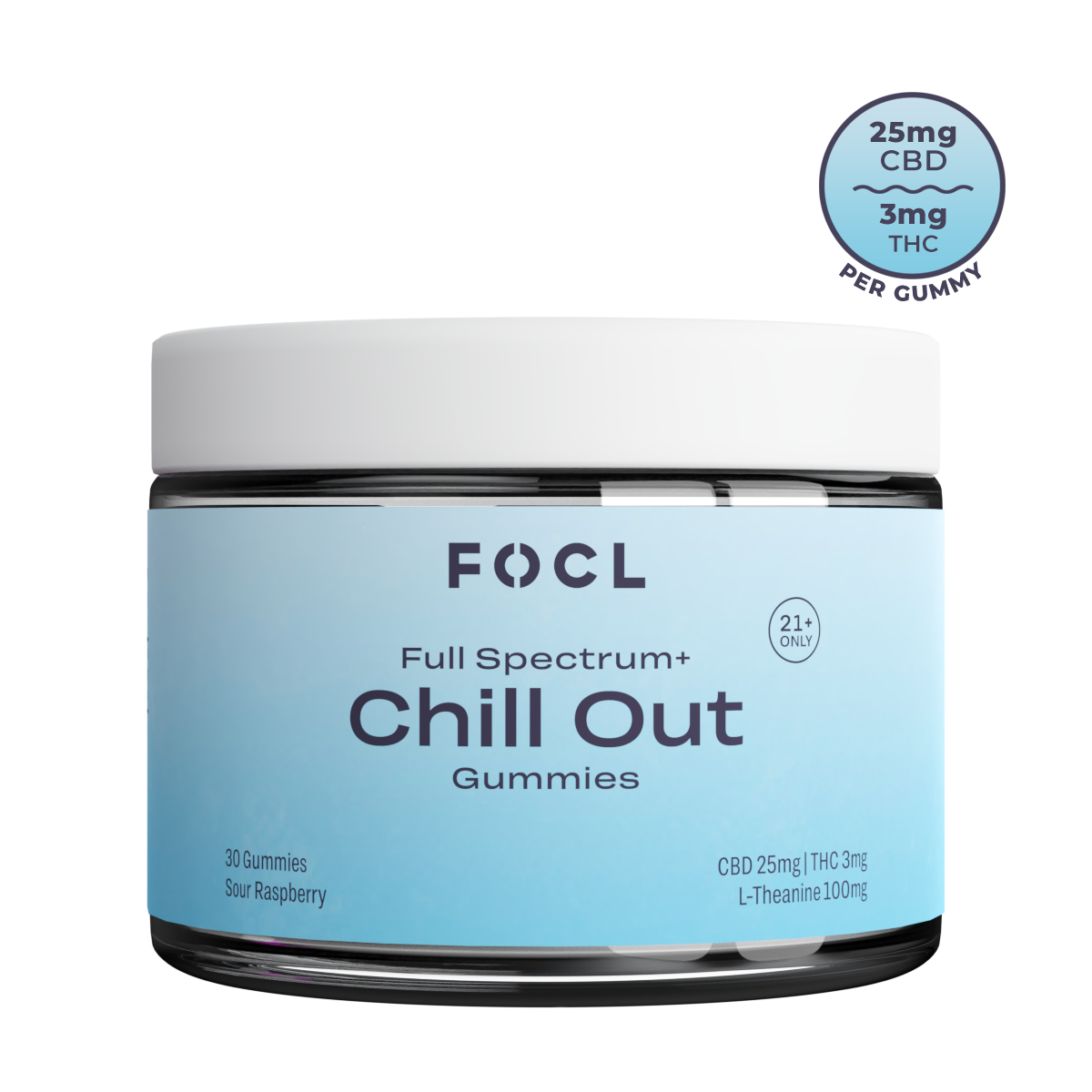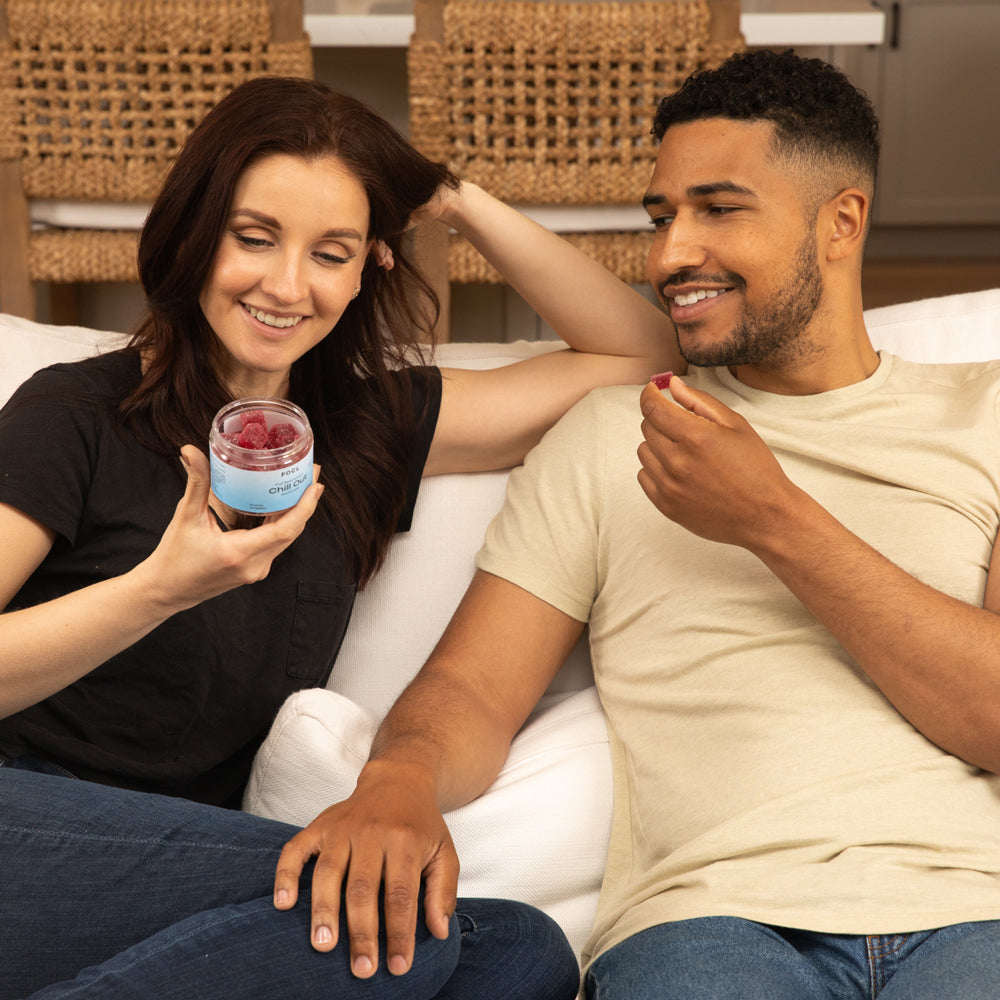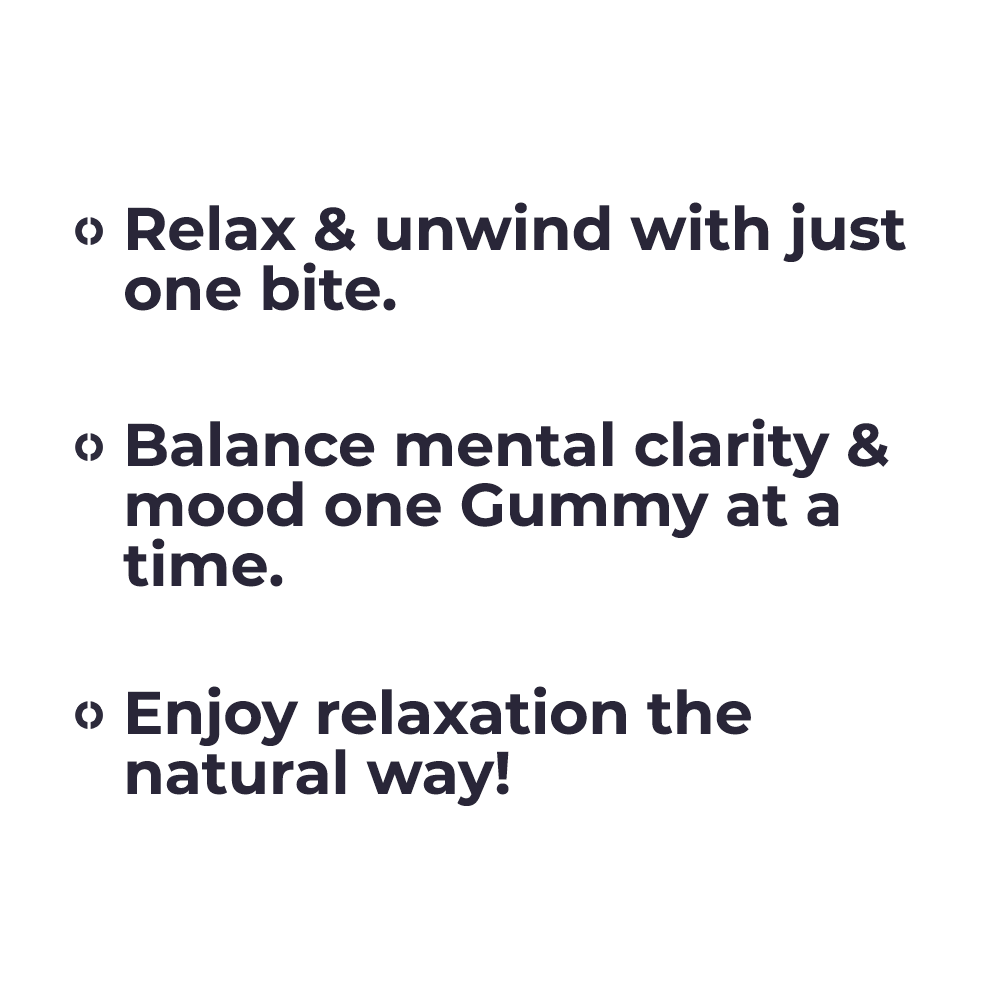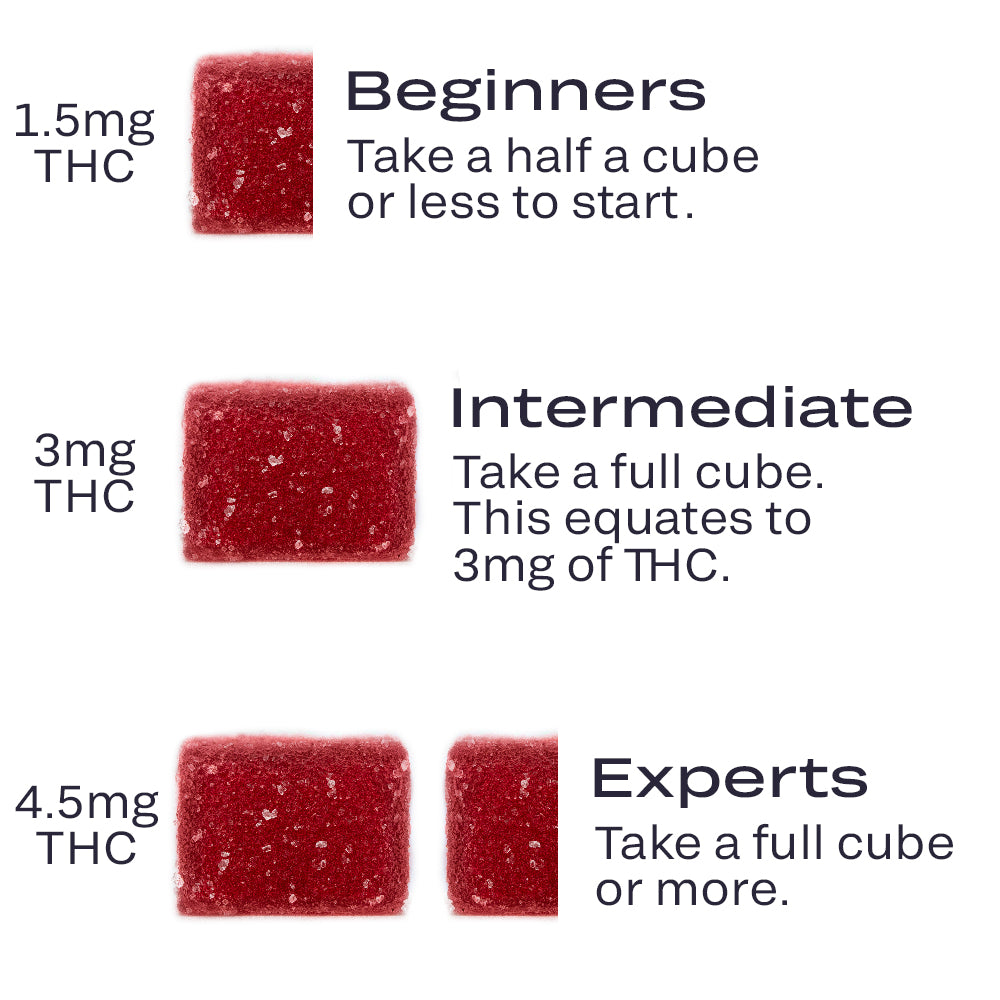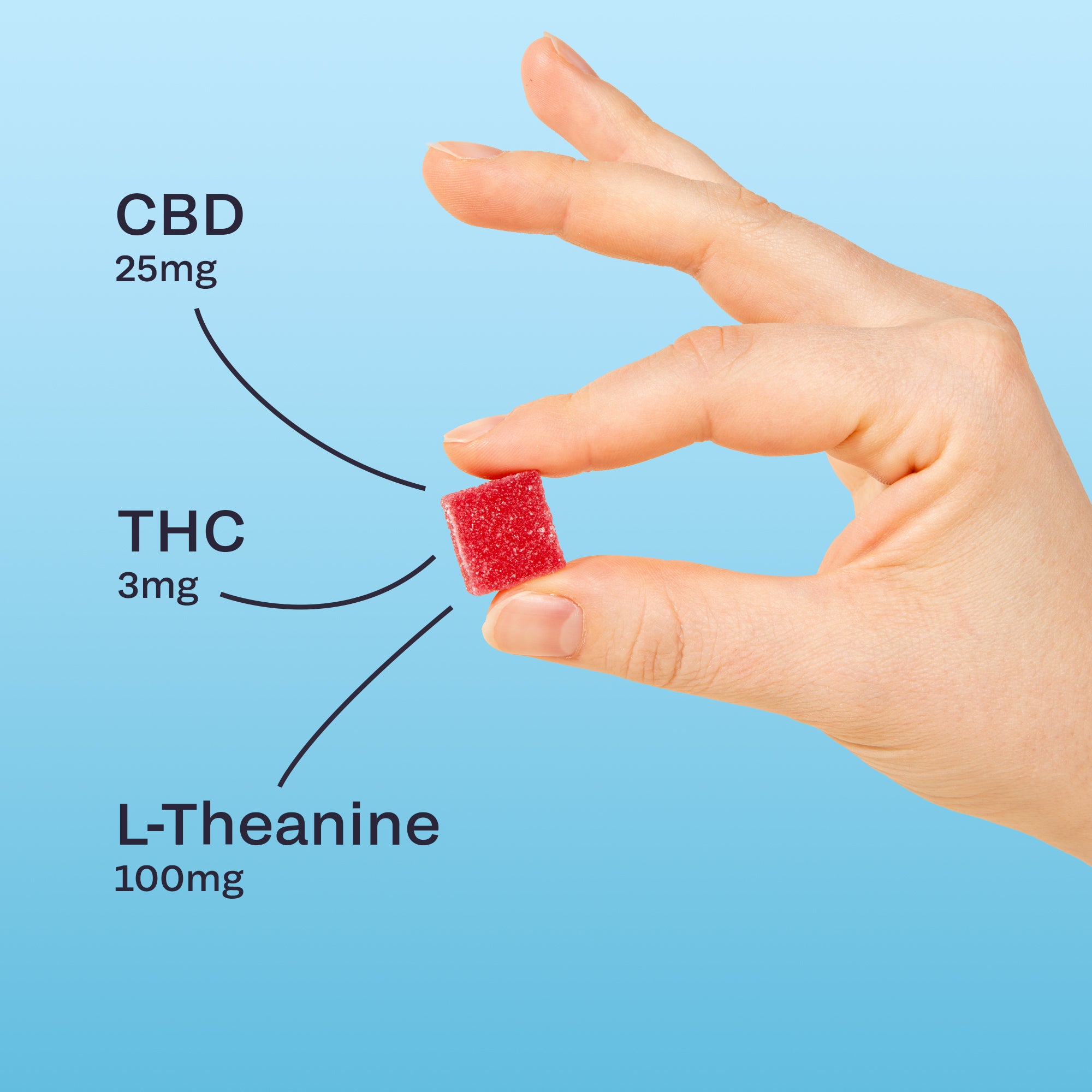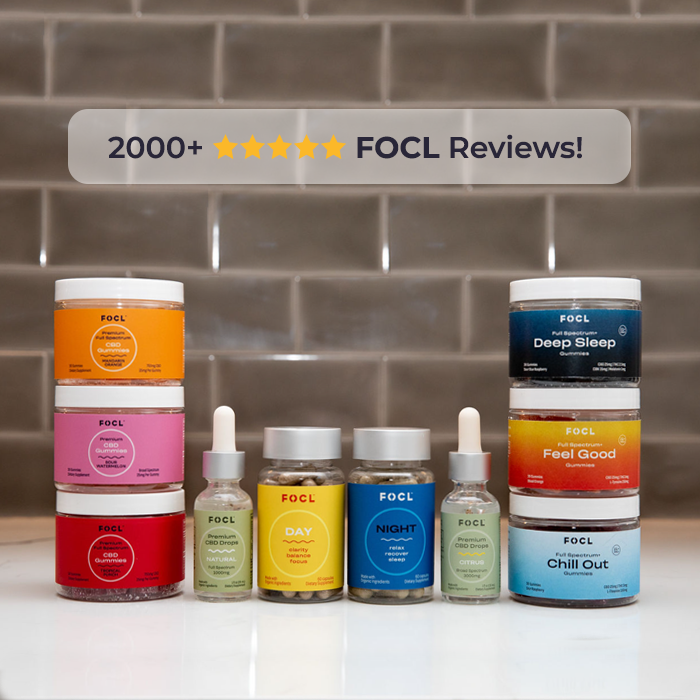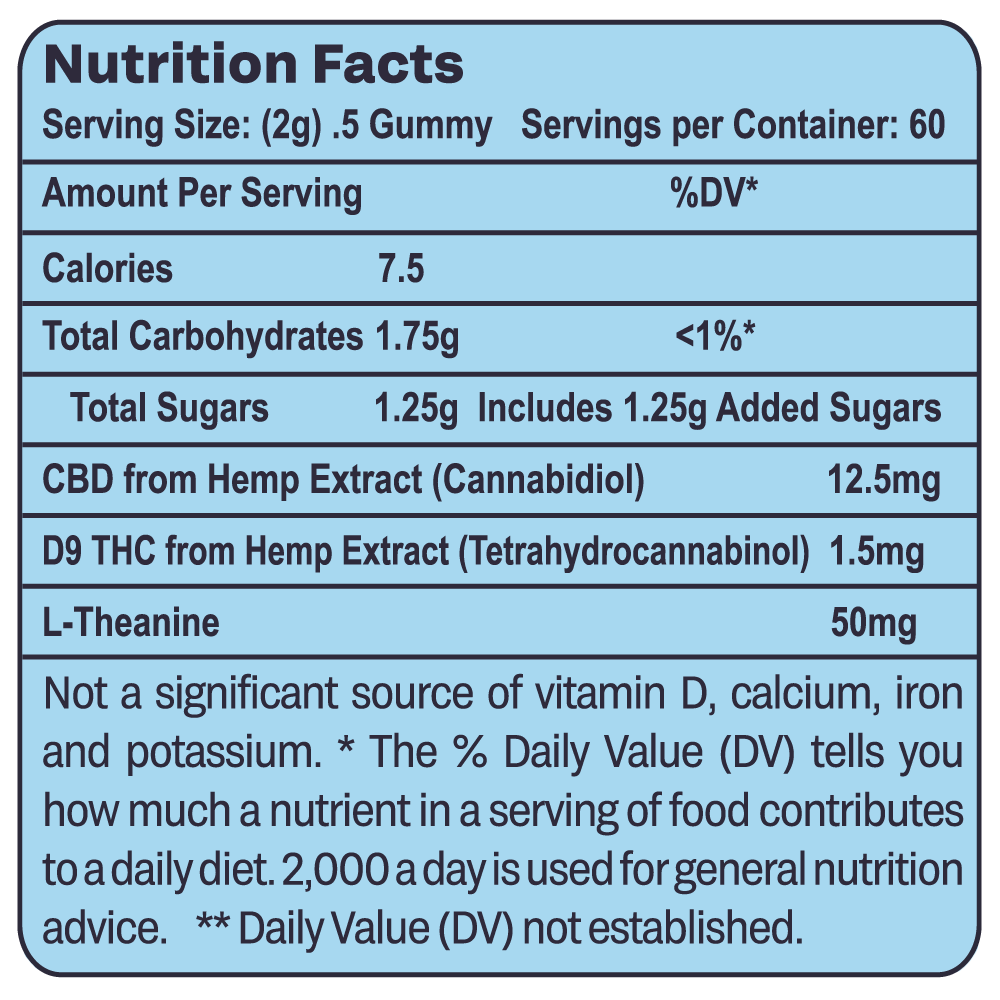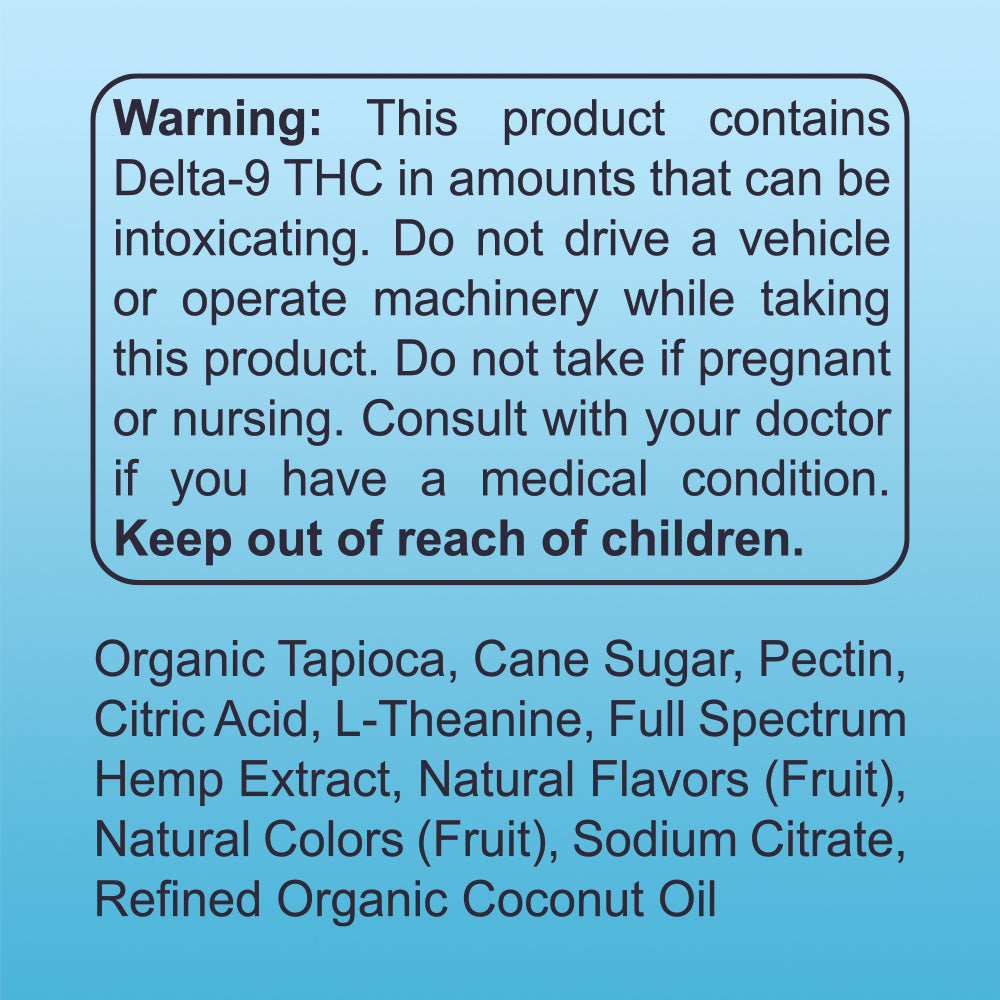 Recommended Use
Enjoy half to 1 full gummy as needed to relax. Take it slow, start with a lower dose and work your way up until you feel the perfect amount of Chill Out vibes.

Remember to talk to your doctor before indulging if you're pregnant, nursing, have a medical condition, or taking medication. Safety first, relaxation second!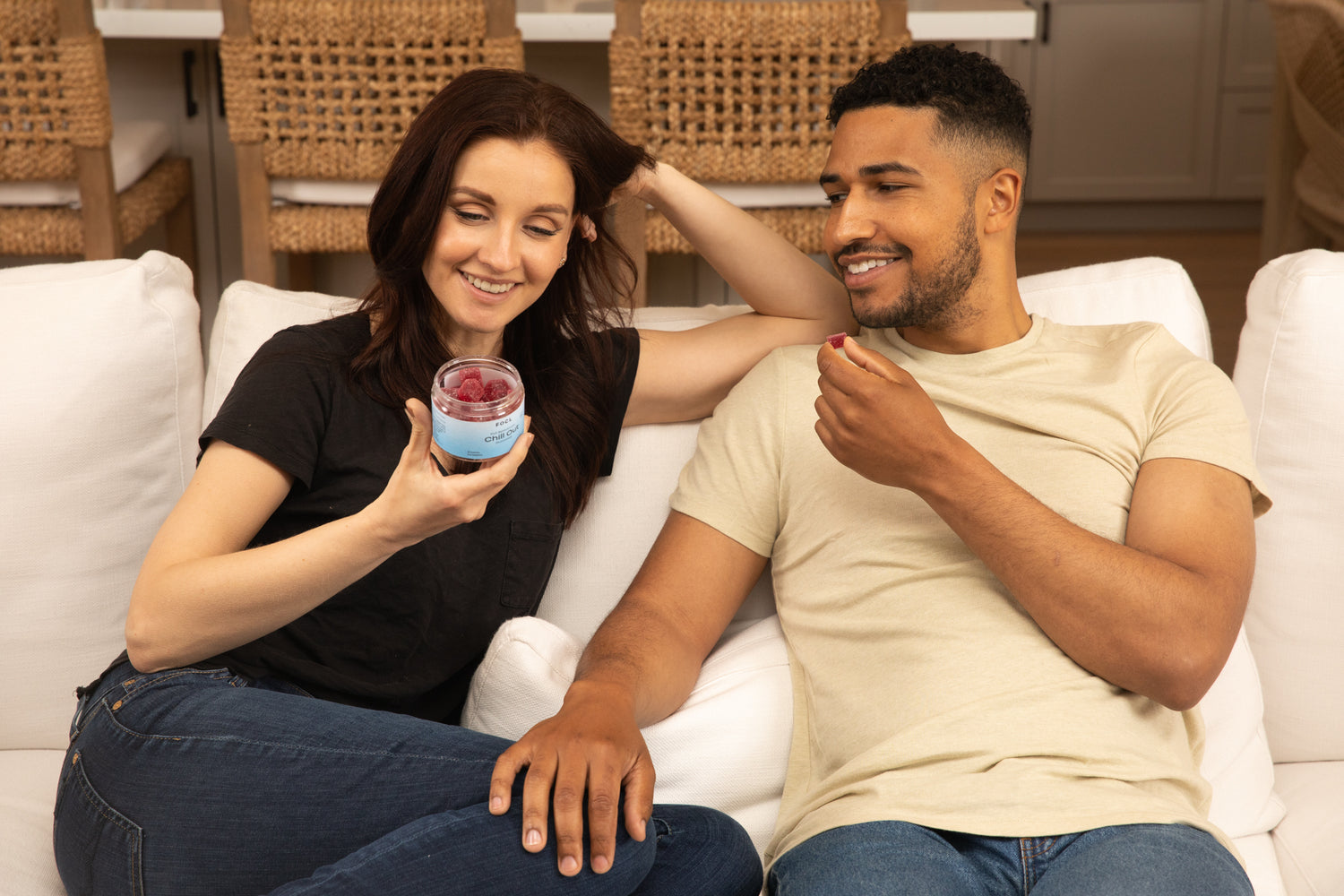 Why Full Spectrum+
Introducing FOCL Chill Out Gummies, a powerful blend of CBD, THC, and L-Theanine to relax and de-stress.
Each gummy contains 25mg CBD & 3mg THC of chill, and 100mg L-Theanine for mental clarity. Feel good, enjoy the moment with FOCL.
The best version of you.
Experience ultimate relaxation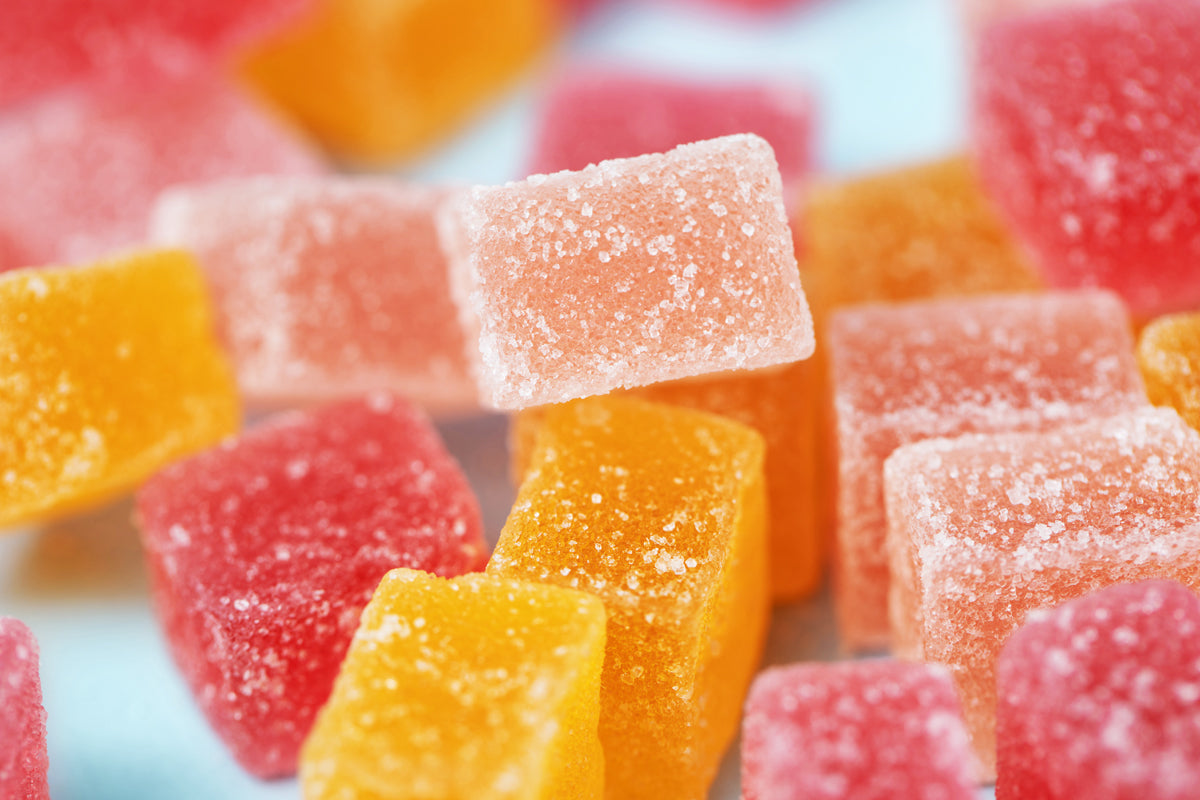 Quality Promise
At FOCL, we believe in full transparency and rigorous quality control. Our Chill Out Gummies are third-party lab tested to ensure they meet our strict standards for potency and purity. Additionally, our hemp is organically grown in the USA and is free from pesticides, herbicides, and heavy metals.
• Vegan
• Non-GMO
• Free of pesticides, heavy metals and microbials.
View Test Results
Does CBD really work for anxiety?

Perhaps. A growing body of research suggests that CBD can offer a promising alternative for managing anxiety symptoms. This naturally occurring compound in cannabis is believed to interact with the body's serotonin receptors, which are integral to mood regulation. While individual responses can vary, many users have reported feeling a sense of calm and relaxation after consuming our CBD gummies.
How do you deal with severe stress and anxiety?

Addressing severe stress and anxiety can require a multi-faceted approach. While it's best to determine your stress and anxiety with a physician, you can implement calming techniques at home. It's best to determine with your doctor if you are dealing with diagnosed anxiety, situational anxiety, or anxiety caused by common daily stressors.

However, strategies such as practicing mindfulness, engaging in deep breathing exercises, maintaining a regular exercise routine, can all contribute to better mental health. Finally, CBD gummies may offer a natural way to complement these techniques, with the aim of promoting relaxation and calm. However, it's best to discuss this with your doctor first before taking a new product.
How many people use CBD for anxiety?

It's estimated that around 6 million people in the United States turn to CBD as a potential remedy for their anxiety. This speaks volumes about its growing acceptance and potential effectiveness. CBD gummies are designed with this growing need in mind, offering a simple and tasty way to incorporate CBD into your wellness routine.
How can CBD make you more calm?

CBD's calming effect can be attributed to its interaction with the body's endocannabinoid system. This system plays a role in regulating various physiological and cognitive processes, including mood and stress response. Consuming our CBD gummies can potentially influence these processes in a positive manner, resulting in a calmer, more relaxed state of mind.
What CBD is best for relaxation?

Choosing the best CBD product for relaxation can depend on personal preference. However, full-spectrum CBD products, which contain all cannabinoids found in the cannabis plant, are often considered more effective. This is due to the 'entourage effect' where the plant's components work synergistically for an enhanced effect. Our range of full-spectrum CBD gummies aim to provide this enhanced benefit.
Is CBD effective for everyone?

While there's promising research supporting CBD's potential in reducing anxiety symptoms, it may not be a universal solution. The effectiveness of CBD can depend on various factors such as individual metabolism, biochemistry, and the nature and severity of the condition. However, CBD gummies provide a flexible dosage to cater to diverse individual needs.
Can taking CBD every day help with anxiety?

Perhaps. A consistent routine of consuming CBD may potentially alleviate symptoms of anxiety. Taking our CBD gummies daily may help establish a steady level of CBD in your system, which can contribute to sustained relief. If you have anxiety related to a diagnosed medical condition, you should always consult with your doctor or medical professional before taking any new supplement or medication.
How can I control my anxiety without medication?

Non-pharmaceutical approaches to managing common daily stressor that cause anxiety can involve a range of strategies, including deep breathing exercises, mindfulness, and regular physical activity. Incorporating CBD, like our CBD gummies, into your wellness routine can also offer natural support in controlling anxiety symptoms. 

These approaches can empower you to manage your anxiety in a way that aligns with your lifestyle and personal values.  If you have anxiety related to a diagnosed medical condition, you should always consult with your doctor or medical professional before taking any new supplement or medication.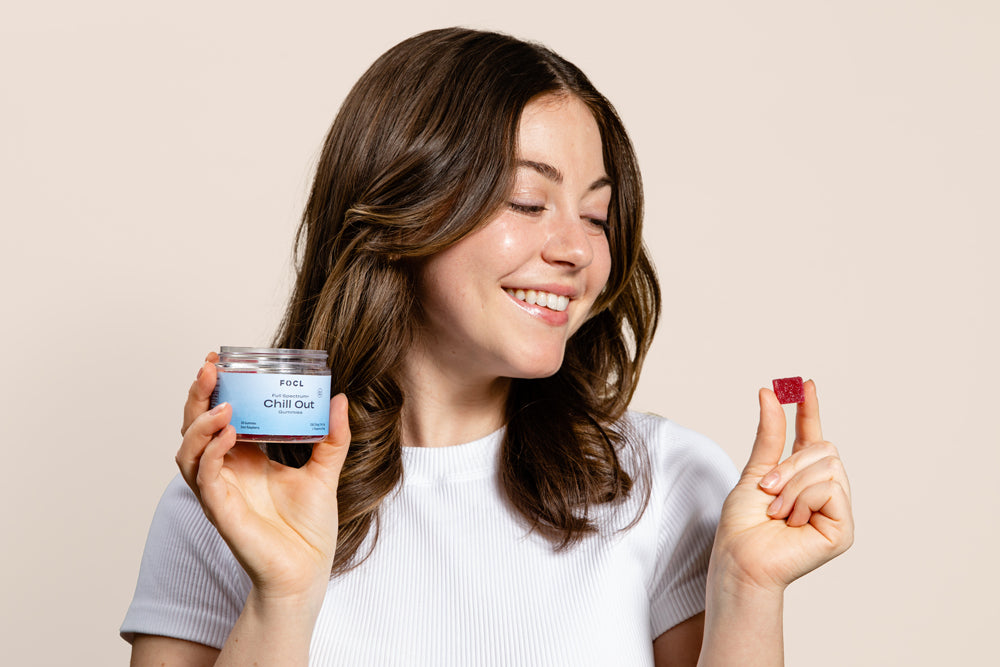 CBD For Anxiety
Hey there! Mind if we have a little chat about anxiety? It's a common thing that can affect anyone in different ways. But hey, no need to stress out! CBD might just be your ticket to some sweet relief when those anxiety waves come crashing in.
Take a deep breath, let it out, and get ready to explore the wonderful world of CBD with me. We're about to dive into how it works and how it can lend a helping hand with other mental health issues too. So sit back, relax, and get ready for a ride on the CBD slide. Trust me, it's gonna be a good one!
Interested in how CBD could enhance your wellness regimen? Shop FOCL to discover the difference that high-quality, organic hemp products can make in your life, or take our Product Finder Quiz to get matched up with the perfect products tailored to your unique needs.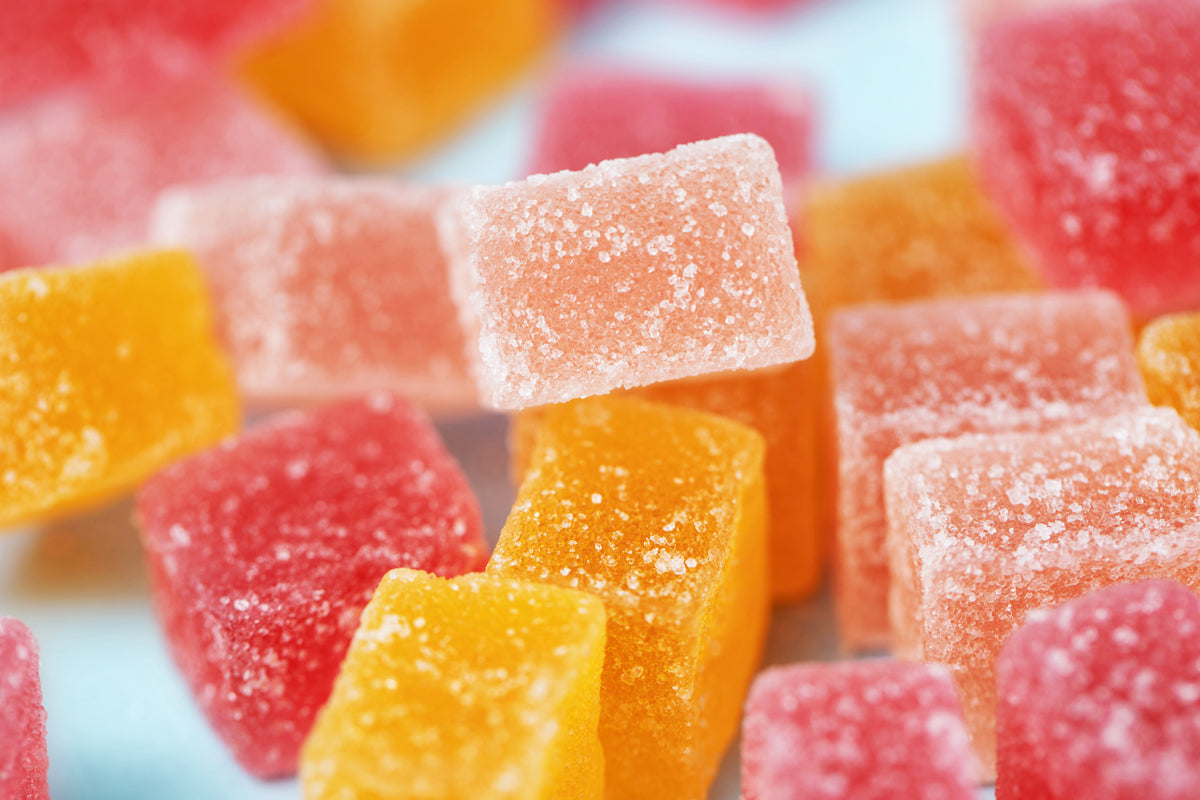 What Is CBD?
Cannabidiol (CBD) is among the many naturally occurring compounds found in the cannabis plant known as cannabinoids. Unlike its well-known cousin, THC, CBD doesn't have any psychoactive effects. Instead, it's recognized for its potential therapeutic and medicinal properties.
Cannabinoids are known to interact with the endocannabinoid system in the human body, which is responsible for regulating homeostasis and various physiological processes.
CBD is extracted from the cannabis plant in the form of an oil. This oil is then used in various products, such as tinctures, capsules, edibles, topical creams, and more. 
Products infused with CBD are becoming increasingly popular as an alternative to traditional medications for treating various ailments. But take note that CBD is not a miracle cure, and we still need to consult with a doctor before taking any new medications or supplements.
How Does It Work?
CBD is thought to interact with the receptors and neurotransmitters of the whole endocannabinoid system (ECS) that regulate many essential functions, such as mood, appetite, sleep, pain, and immune response. By binding to these receptors, CBD stimulates the production of endocannabinoids promoting balance and harmony within the body.1
So, you can think of CBD as your body's hype person, keeping things in check and promoting that feel-good vibe.
Studies On The Benefits Of CBD For Anxiety
CBD has shown promise in treating the greater spectrum of anxiety disorders. Here are some potential benefits that you may experience when taking CBD to alleviate nervousness. 
CBD For Generalized Anxiety And Depression 
Generalized anxiety and depression are extremely common in today's world. While prescription medications are often the solution, some may be looking for more natural ways to work on addressing the symptoms. The good news? 
CBD has been found to alleviate symptoms of generalized anxiety and depression. Studies have shown that CBD could be a potential therapy for a wide range of mental health disorders, offering anxiolytic and antidepressant properties that calm nervousness and address mood disorders, indirectly increasing the production of hormones like serotonin, and modulating hyperactivity in psychotic disorders.1
CBD For PTSD And Phobia Treatment
PTSD and phobias can really mess with people's lives, making everything feel overwhelming. Therapy and meds can help, but people are exploring new options like CBD to find relief.
In a 2019 study, 91% of participants demonstrated a decrease in the severity of PTSD symptoms after undergoing an 8-week CBD treatment, which was confirmed by a reduction in PCL-5 scores, a self-report assessment for measuring PTSD symptoms.2
Recent studies have also discovered that CBD has the potential to regulate the processing of fear memories, opening up possibilities for its use as an effective therapeutic approach in treating anxiety and trauma-related disorders like phobias and PTSD.3
CBD For Social Anxiety Disorder (SAD) 
Social anxiety disorder (SAD) is an intense fear of social situations, leaving many sufferers feeling overwhelmed, embarrassed, and isolated. Many people with SAD find it difficult to attend social gatherings, go to work, or even leave the house. Fortunately, CBD may be able to provide some relief.
One study conducted in Japan found that CBD use could be effective in treating SAD, helping individuals feel more at ease, potentially impacting the area of the brain that plays a role in emotional processing, and reducing anxiety associated with certain events that often trigger certain symptoms (for example, public speaking).4
CBD For Panic Disorder (PD)
Panic disorder (PD) is an anxiety disorder characterized by recurring and intense episodes of fear and panic. These episodes can be so severe that they interfere with your daily life and activities. Fortunately, CBD may be able to help.
A review conducted by pharmacological experts covered experimental studies on both laboratory animals and humans, investigating the potential anti-panic properties of CBD. The collective findings strongly indicate an anxiety-reducing effect of CBD, observed in both test subjects. CBD shows promise as a potential treatment for panic disorder (PD). However, to fully understand the specific mechanisms of CBD's action and determine safe and optimal therapeutic dosages of this compound, further clinical trials involving individuals diagnosed with PD are necessary.5
How To Consume CBD For Anxiety?
CBD is available in many forms, making it easy to find a method of consumption that suits your lifestyle and needs. Here are some of the most popular methods of consuming CBD for anxiety:
Gummies
Gummies are a delicious and convenient option for those seeking anxiety relief with CBD. These treats come in various flavors, shapes, and sizes, making them enjoyable to consume whether you're at home or on the move.
When picking out gummies, prioritize those made with high-quality ingredients. Full-spectrum CBD gummies contain all the beneficial compounds found in the hemp plant, such as terpenes, flavonoids, and even trace amounts of THC, working together to provide enhanced relief and relaxation. Meanwhile, broad-spectrum CBD gummies contain no trace of THC, which may be more desirable for certain consumers. 
Make sure that the gummies you choose are free from artificial colors, flavors, and preservatives, and aim for minimal sugar content.
Lastly, since everyone's response to CBD varies, start with a low dose and gradually increase until you discover the right amount that works best for you.
Tinctures & Oils
If you want quick anxiety relief with CBD, tinctures and oils are the way to go. They're easy to dose and give you full control over the amount of CBD you take. As with CBD gummies, there are full-spectrum and broad-spectrum drops to choose from that you can incorporate into your daily routine.
Using CBD tincture or oils is simple, just place the recommended number of drops under your tongue and hold for 30-60 seconds before swallowing. This sublingual method allows CBD to be absorbed directly into your bloodstream, ensuring the fastest onset of effects.
Capsules
Capsules are a crowd favorite when it comes to anxiety relief. They're easy to consume, and you can find them in various concentrations to meet your specific needs. Just remember that capsules may take a little longer to show their effects compared to sublingual drops. So, be patient and give the CBD some time to work its magic.
What's even better, there are CBD capsules out there designed with powerful adaptogens and healing botanicals like Valerian Root, Ashwagandha, and 5-HTP that provide even further synergistic effects to help you relax, unwind, and let your stress melt away. 
Cream 
If you prefer a localized approach to relieve anxiety, CBD cream is your best option. Just apply it directly to the skin, targeting specific areas to take advantage of fast-acting relief. 
Creams and other topicals are carefully crafted with a blend of oils and waxes that create a protective barrier, keeping your skin hydrated and reducing inflammation. Not only does CBD cream work wonders for your skin, but it also provides a calming and soothing sensation that helps reduce stress and anxiety. The best part? It's non-psychoactive and free from potentially harmful chemicals or additives often found in prescription medications. So, you can enjoy the benefits without worrying about unwanted side effects.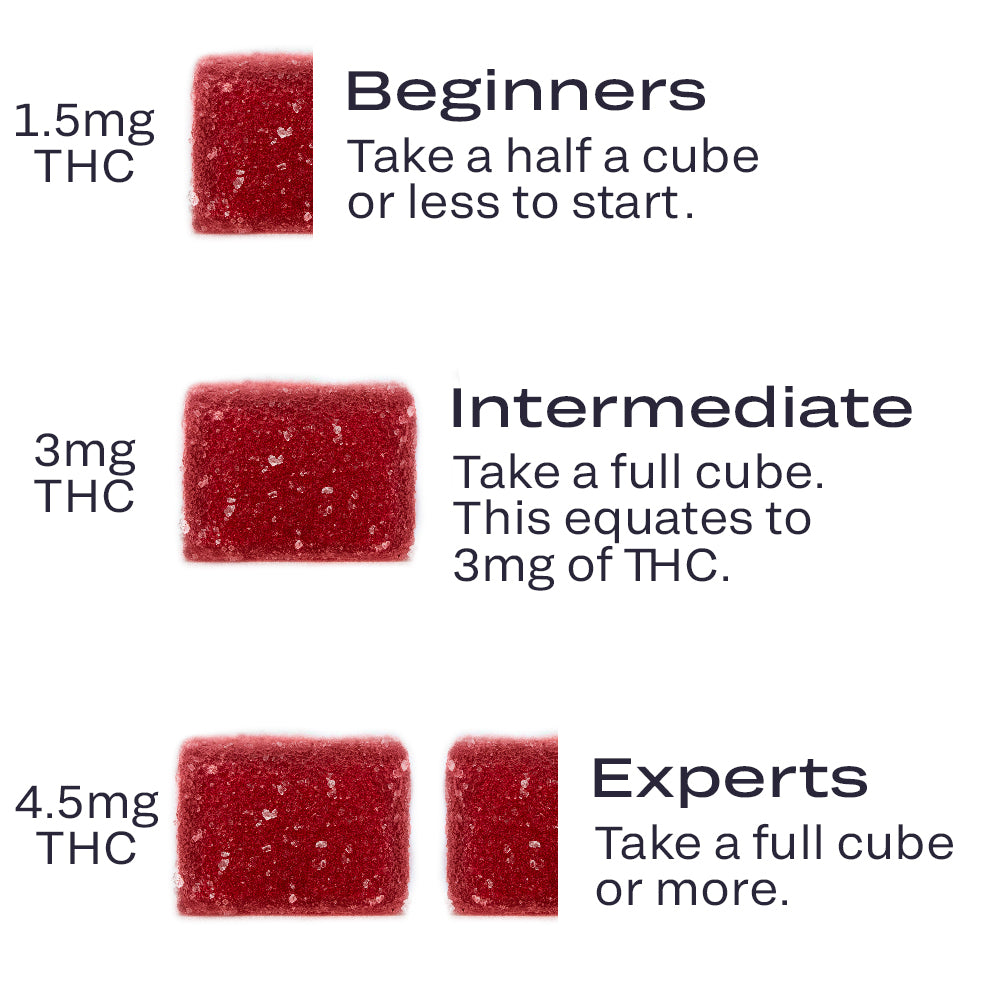 Recommended Dosage For Anxiety
Finding the right CBD dosage for anxiety is a personal journey because we're all wonderfully unique. What works for someone else might not work for you, and that's okay!
To discover your perfect dosage, start low and go slow. Begin with a small dose and gradually increase it until you achieve the desired results. Typically, it's recommended to start with around 10-20mg of CBD per day and adjust from there based on how you feel. Keep in mind that CBD effects aren't immediate, so give it a few days or weeks to see how it works for you.
While exploring CBD for anxiety, it's crucial to be mindful of the product you choose. To be on the safe side, have a chat with a healthcare professional before incorporating any CBD products into your routine. Their expertise will guide you in making informed decisions for your well-being and helping you avoid potential interactions with any current medications.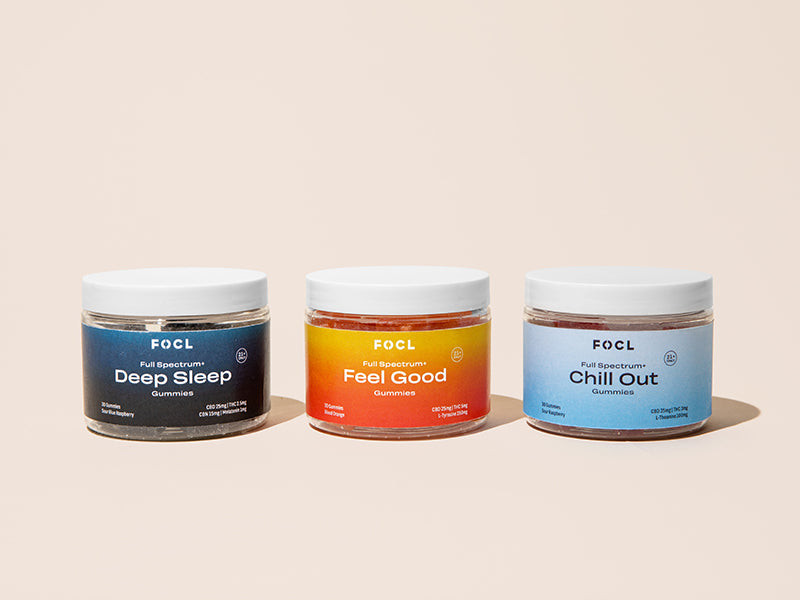 Best CBD Products For Anxiety
Are you excited to uncover the ultimate CBD products for soothing anxiety? Let's dive right in and explore FOCL's top-notch CBD essentials.
Chill Out CBD + THC Gummies
Are you ready to relax and unwind with the perfect blend of nature's finest ingredients? Look no further than Chill Out CBD + THC Gummies! 
What's great about Chill Out CBD + THC Gummies is that they're designed to provide a calm and gentle experience. They offer the perfect balance of CBD and THC (25mg and 5mg, to be exact) to ease you into the moment, allowing you to enjoy the calming benefits without going overboard. We even added some L-theanine in there to enhance mental clarity and focus as you kick back and relax. With a delicious sour raspberry flavor and 30 gummies per bottle, this is sure to be a hit when you need to chill out.
Premium Full Spectrum CBD Drops 
Searching for a way to enhance your focus and enjoy a better night's sleep? No need to look elsewhere! FOCL's Premium Full Spectrum CBD Drops are here to save the day (or your night). 
What sets FOCL's Full Spectrum CBD Drops apart is their superior potential for greater health benefits. Derived from the whole hemp plant, every drop contains a wide range of cannabinoids like CBD, CBDa, CBG, CBN, and even trace amounts of THC. And that's not all – it also includes beneficial terpenes and flavonoids to give you the full natural goodness. So, when you take these drops, you're not just getting CBD, you're getting a comprehensive package of wellness. Better yet, we offer them in several concentration options and three natural flavor choices!
FOCL Relief Cream
FOCL Relief Cream is the ultimate all-natural solution to help you with anxiety! This powerful topical cream combines the soothing benefits of botanicals with the potential healing properties of CBD.
With ingredients like Camphor Oil and Premium CBD, it's perfect for recovering sore muscles and reducing inflammation. And the added organic Aloe and Arnica? They help nourish and repair your skin! Our Relief Cream is made with premium US-grown hemp, and it's vegan, non-GMO, cruelty-free, and undergoes third-party testing for your peace of mind. Self-care day anyone?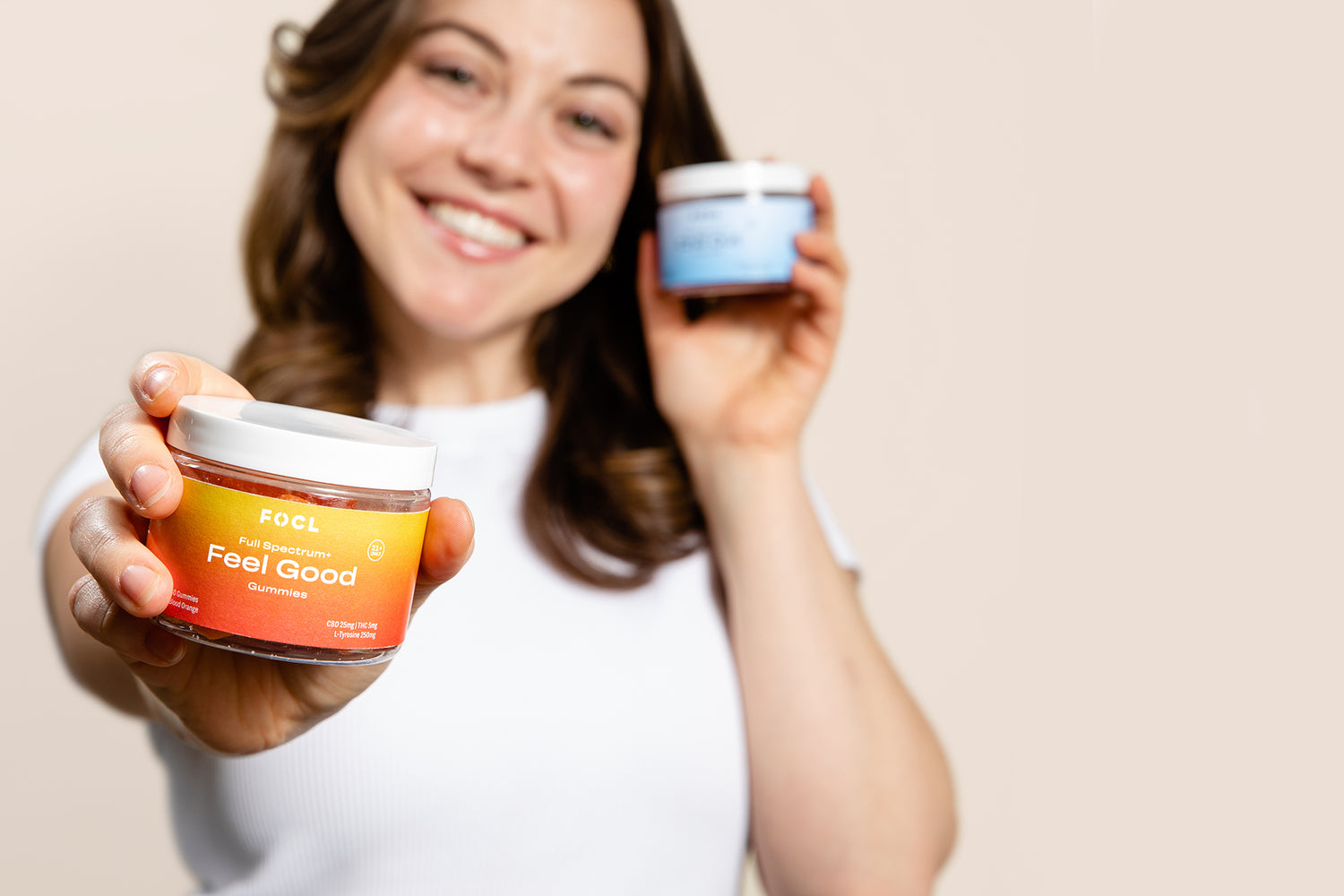 Unleash The Power Of FOCL CBD For Anxiety Relief
CBD is making waves as a potential natural remedy for anxiety. With its soothing properties and potential to alleviate symptoms of a wide range of anxiety disorders, it's no wonder people are turning to CBD for a game-changing solution.
Of course, not all CBD products are made the same. You want to make sure you're getting the best when you decide that relaxation is top of mind. If you're looking for a natural approach to managing anxiety, start your CBD journey with FOCL! All of our CBD products are crafted with non-GMO hemp and a range of natural ingredients to enhance your relaxation experience. Better yet, we offer free shipping on all orders over $40 or with a Subscription, 15% off your first order when you sign up for our newsletter, and $5 off when you sign up for a FOCL Rewards account!
Shop now or reach out to us if you have any questions!
Want to know more about the underlying powers of CBD? Browse through our latest blogs: