Extra Strength Relief Bundle
Regular price

$189.00

Sale price

$79.00
---
Soothe sore muscles with our powerful Relief Cream formula of doctor formulated CBD + botanicals & kickstart your recovery with premium CBD drops.
FOCL 2000mg Relief Cream:

Cooling botanicals + CBD to kickstart recovery & eliminate soreness.

Natural CBD Drops:

3000mg of Full Spectrum CBD per bottle to help calm your mind+body, fast.

Better Together: Use together to amplify relief & recovery from workouts and everyday pains.
---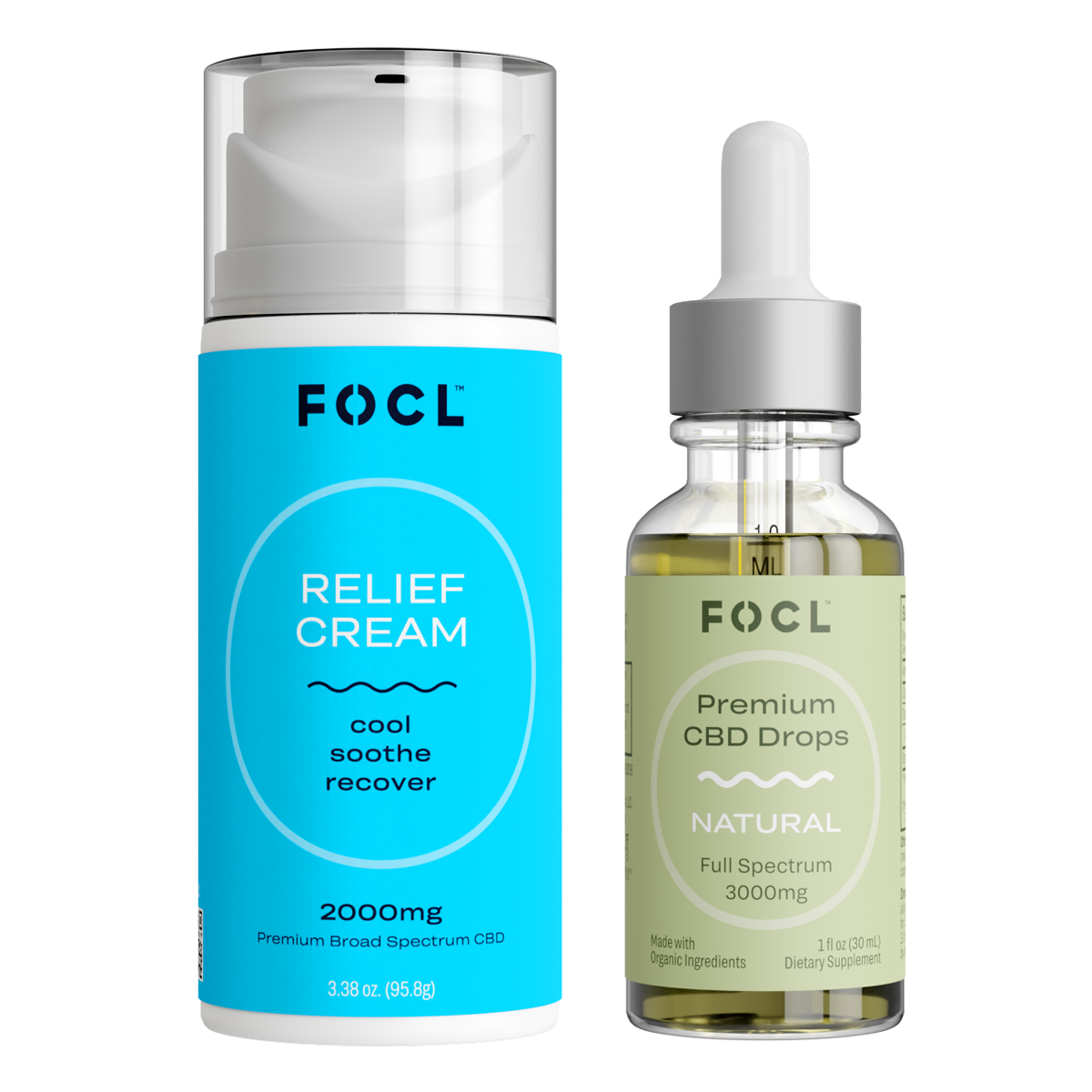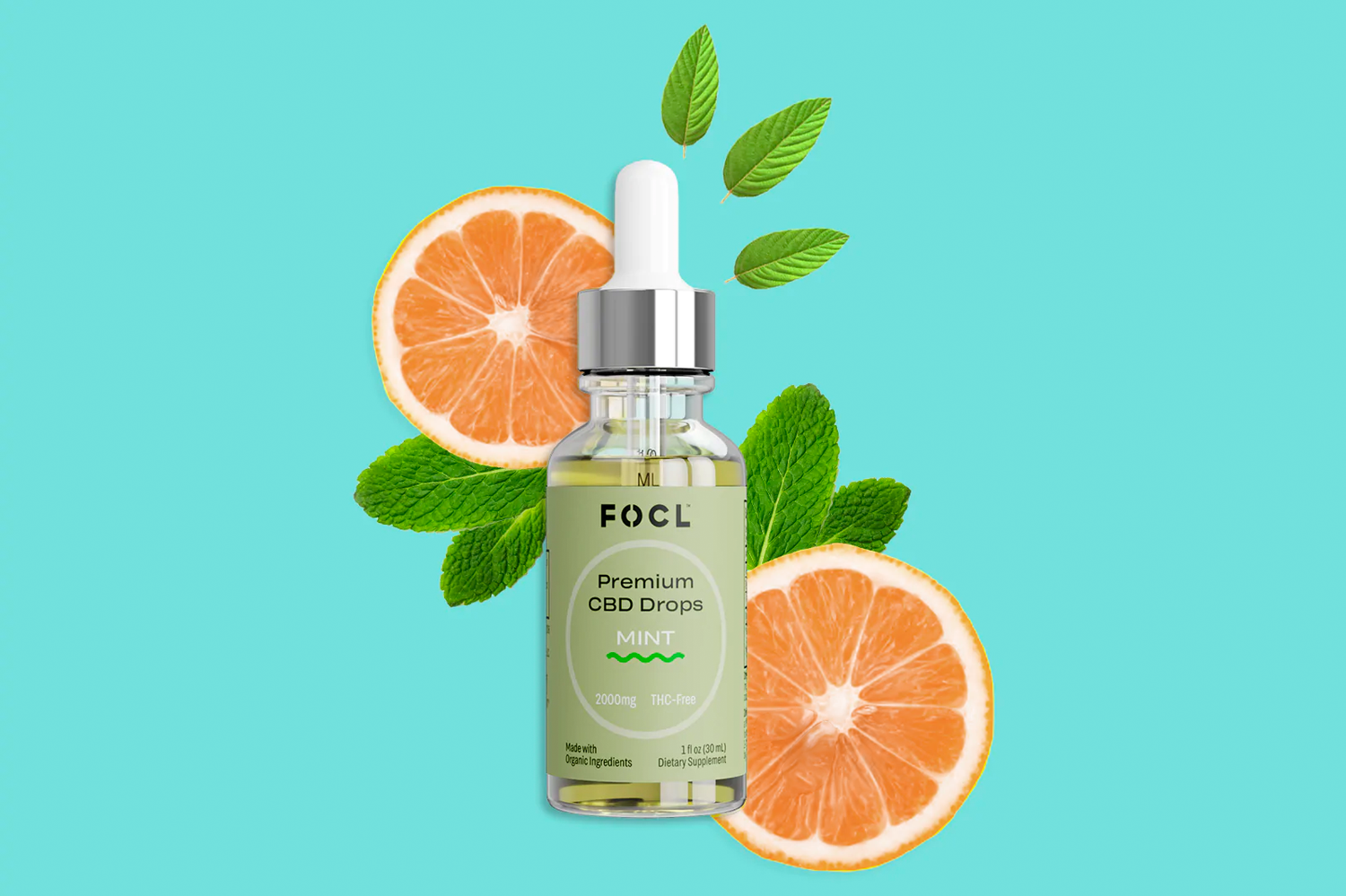 Premium CBD Drops
Clean & simple ingredients to help calm your mind and soothe your body.
•Premium CBD: Helps the mind + body stay focused and relax.
•Organic MCT Oil: Premium carrier oil derived from baby coconuts.
•Organic Flavors: 4 delicious, natural flavors with no grassy aftertaste.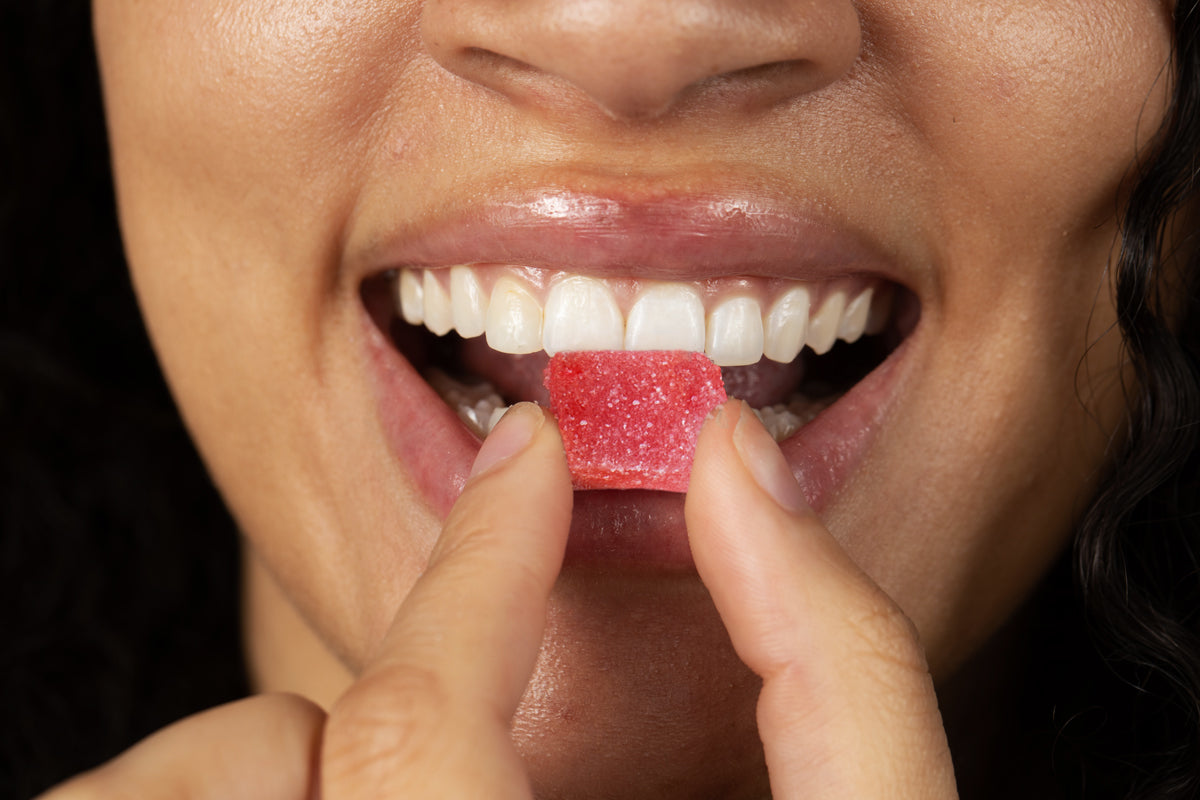 + Premium CBD Gummies
Our delicious guilt-free gummies will help you relax and move through each day with ease. Made with Organic Ingredients and available in three tasty flavors.
• Each gummy contains 25mg of Premium CBD.
• Melts in your mouth. FOCL soft-chew gummies feel like a treat, not a chore.
• Three delicious flavors: Sour Watermelon, Tropical Punch, and Mandarin Orange.
Truly Better Together
Combine our Drops with the highest quality MCT oil + our Premium CBD Gummies for that extra dose of chill, and to help:

CBD Drops FAQs
What should I expect after taking these CBD tinctures?

The highest quality hemp CBD tinctures give you a sense of calm so you can relax and focus. No high, no negative side effects, and no jitters. Stay present and clear-headed with FOCL Premium CBD Drops.
Do CBD drops work?

Cannabidiol or CBD may help balance the endocannabinoid system and help users feel more balanced. Because CBD is new, there is limited research about its overall efficacy. However, the research that has been done has alluded to positive outcomes in users. At FOCL, we believe strongly that CBD can be tremendously beneficial, and we have thousands of customers who have reported very positive experiences with our oils and other products.
How do you feel after taking CBD drops?

CBD products may support relaxation of muscles, relief from aches and pains, and help minimize everyday stressors, so you'll likely feel incredibly relaxed. By promoting a sense of calm, CBD should make it easier for you to focus during the day and sleep better at night.
Will this CBD tincture make me high?

No, unlike its cousin, tetrahydrocannabinol (THC), CBD is non-psychoactive and does not get you high. FOCL Premium CBD drops contain hemp-derived CBD, so no high here—just the wellness benefits of CBD.
Will CBD make me tired?

Unlike THC, CBD does not have intoxicating qualities, so CBD products almost never cause excessive drowsiness, sedation, feelings of fatigue, or other negative effects. If in your rare case, they do, don't worry -- most CBD users who report fatigue also report that it passes after 2-3 weeks. If waiting doesn't work for you, let your doctor know, or try lowering your dose (or both). 

On the other hand, if you want a little help falling asleep and are hoping to alleviate sleeplessness, pair up CBD drops with FOCL night. This formulation features broad spectrum hemp extract as well as 5 botanicals that are widely known to promote sleep.
Does CBD help anxiety?

People often use CBD to address anxiety. CBD may support a sense of calm and relief from everyday stressors and anxiousness. However, CBD is not a prescription medication and should not be used to treat any medical conditions.
Can I combine FOCL CBD Drops with the FOCL CBD capsules?

You can combine FOCL CBD Drops with our FOCL Night and Day CBD supplement stacks. Whether you need an extra boost during the day or more chill at night, every body is different, so find the right dose for you and always consult your healthcare provider if you experience any symptoms or if you take prescription medications.
Will CBD show on a drug test?

CBD products may well contain THC, so it is important to know what you are getting. You can possibly fail a drug test after using CBD products if they contain trace amounts of THC. Most FOCL products are THC free, but please read the label of any CBD product carefully if you are looking for a product with zero THC.
What happens if you take CBD every day?

Amazing things! Can I take CBD every day? Yes. For optimal results in most people, you not only can, but should. Allowing CBD to compound in your body over time (because it's fat soluble) should lead to better, more consistent results.
What's the difference between cannabis and hemp?

According to the Food and Drug Administration (FDA), legal CBD products are made from industrial hemp plants, which also produce a variety of other products. However, hemp is a plant variety of the Cannabis sativa plant. So technically, even hemp extract is made from the cannabis plant.
CBD oil vs. CBD capsules: What's the difference?

CBD capsules require digestion, so most people will feel the effects after about an hour. These effects can linger for up to six hours. 

CBD oil is commonly placed under the tongue. When taken sublingually, it will absorb more quickly into the bloodstream, so most people feel effects after about 10 min to 1 hour. Depending on the person and dosage, the effects are known to last 4-6 hours.
Can I take CBD drops with other CBD products?

Yes, people can and do combine CBD gummies, CBD oil tinctures, topical CBD, hemp seed oil products — you name it! Just watch your total dosage for optimal results.
Gummies FAQs
WHAT ARE CBD GUMMIES USED FOR?

CBD Gummies are a form of CBD edibles and just another way to take CBD. FOCL Premium CBD Gummies are an easy and tasty way to get all the benefits of CBD. So chill out, relax, fall asleep quicker with these delicious treats.
WHEN SHOULD I TAKE FOCL GUMMIES?

FOCL Premium CBD Gummies can be consumed morning or night for quick relief from everyday stressors. Keep them in your medicine cabinet, purse or desk drawer when you need a dose of chill.
WHAT IS THE DOSE OF CBD IN FOCL GUMMIES?

Our CBD Premium CBD Gummies contain 25mg of Premium CBD in each gummy. As always, we recommend starting low and dosing up as you find the right dose of CBD for you.
ARE FOCL PREMIUM CBD GUMMIES HEALTHY?

FOCL Premium CBD Gummies are made with organic ingredients to ensure you're getting the most premium CBD out there. Perfectly dosed and good for you, we highly recommend adding these wellness CBD gummies to your daily routine.